Manufacturer : Team BlackSheep / Référence : CAIPI-2
TBS Caipirinha 2 PNP
Shipping costs
from 49€ pour France
Same day shipping
for orders placed before 3:30pm (Monday to Friday)
Caractéristiques techniques
The most efficient and smooth long range cruiser the world of FPV has ever seen!
We're incredibly excited to announce the TBS CAIPIRINHA II - the wing that puts your piloting, pronunciation and spelling skills to the test! :) It's a gentle long range cruiser that turns into a fierce mountain diver with just a slight push on your pitch stick. 
The Caipirinha II is based on the Wipeout by HappyFlyers from Switzerland! A polycarbonate battery bay, push-to-open equipment bays, a PDB with up to 3 battery inputs, wiring channels that stretch across the entire wing, a huge 6mm-plywood-lined center section are just some of the innovations that make this plane stand out from the rest. An ultra-sleek and aerodynamic finish ensure that no energy goes to waste, and a very good glide slope makes thermaling or long distance slopeing highly enjoyable.
The PNP kit from TBS is equipped with high quality, digital metal gear servos, a CP2814-1050kV Cobra motor, 50A HobbyWing ESC and high quality Aeronaut CAM Carbon folding propellers. Vertical climbs, rocket-like punch outs, or highly efficient cruising are all within the design parameters of this setup! 
We can confidently say it's going to be the only long range cruiser you will ever need, and the only flying wing in its weight class with such a performance envelope.
Bullet Points
Small, lightweight, fly anywhere design
Ultimate in flight stability and endurance
Virtually indestructible EPP/Plywood construction
Pre-cut camera, servo, battery, R/C receiver and video transmitter slots
2x push-to-open equipment bays for R/C and FPV electronics
Pre-cut, sanded and covered ultra-lightweight elevons & pushrods
Specifications
36.5in / 93cm wingspan!
50oz / 1400g AUW (including GoPro Session5 and battery)
90min flying time
45mi / 75km endurance
Battery (4S):


Capacity: 4500mAh 4S - 6600mAh 4S, 20C or more
SUGGESTED Dimension: 48 x 36 x 150 mm, 525g
MAX Dimension: 60 x 44 x 165 mm, 550g
Included
CAIPIRINHA 2 with all hardware accessories
2x Digital MG Servo 6kgf/cm, 5-6V
CP2814-1050kV Cobra Motor
50A HobbyWing Skywalker Wing ESC
Aeronaut 10x6 folding prop with prop assembly (CNC aluminum)
Everything prepared as far as possible. Final assembly time around 2 hours.
Recommended
FPV camera: TBS ZeroZero II or TBS69
Video transmission:


5.8GHz: TBS FPVision or TBS UNIFY PRO V3 with TBS CORE PRO
2.4GHz: TBS CORE PRO with Unify 500mW / 800mW VTx

Crossfire Micro Rx or Diversity Rx
Voir plus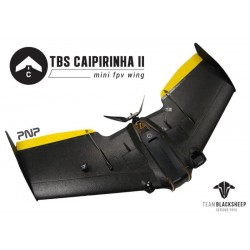 TBS Caipirinha 2 PNP