Manufacturer : Vifly / Référence : VIFLY-MINI
VIFLY Finder Mini
Shipping costs
from 49€ pour France
Same day shipping
for orders placed before 3:30pm (Monday to Friday)
Caractéristiques techniques
A Working Buzzer after Battery Ejection
VIFLY Finder Mini is a smaller version of VIFLY Finder 2.
With only 2.7g that would be the perfect drone buzzer for compact build. VIFLY Finder Mini uses the loudest buzzer that can be found in this tiny size, the volume can be up to 100 dB
Specifications
Size(L x W x H): 19x11x12 mm
Weight: 2.7 grams
Volume:Up to 100 dB
Working Time:Up to 7 hours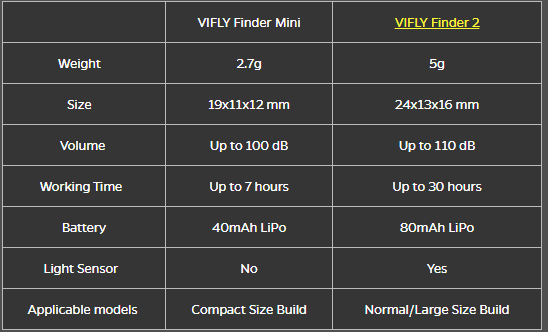 Voir plus
Customer reviews
4.7/5
(6 notifications)
Par

T. PATRICK

le 22/07/2021
pas encore installé
Par

A. Raphael

le 30/05/2021
Prévu pour un whoop, son poids contenu et sa puissance sonore sont les qualités que je recherchais.
Par

C. Gabriel

le 11/05/2021
Taille minuscule! pas encore installé, mais va sans soucis prendre place dans mon châssis 3pouces.
Par

L. Benjamin

le 09/05/2021
Parfait pour retrouver son drone une fois crasher avec la batterie arrachée !
Par

T. Benoit

le 12/04/2021
Parfait
Par

D. Theo

le 12/04/2021
top !