Manufacturer : Team BlackSheep / Référence : TANGO2-PRO
TBS TANGO 2 PRO
Shipping costs
from 49€ pour France
Same day shipping
for orders placed before 3:30pm (Monday to Friday)
Caractéristiques techniques
The perfect take-anywhere remote. Compact, robust and with TBS Crossfire built-in.
Note: Board V3
REDEFINING THE REMOTE CONTROL
TBS has been at the forefront of perfecting the interface between drone and mind. The TBS Tango 2 changes how remote controls will be from here on out! Despite being the smallest remote control available, it comes with full size HAL gimbals, full-featured FreedomTX (temporary OpenTX fork), the lowest end-to-end latency of any remote and transmission system, unbreakable 3 & 2-position switches, open source operating system, built-in battery, USB-C charging, and so much more! It's not just a retouched game controller, it was designed from the ground up for R/C! The form factor and features make it the ideal take-anywhere, fly-anytime remote control. 
CROSSFIRE INSIDE
The first radio with TBS Crossfire built in. This significantly lowers your cost, increases reliability and minimizes set up time. And the cherry on top are the LUA scripts being part of the familiar user interface. The antenna swivels out of the way, or doubles as a kick-stand when resting. TBS Cloud ready to go from the start. It all just makes sense.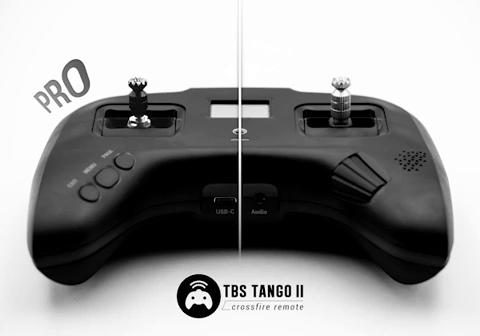 *Power and distance are subject to specific regulations, be sure to respect those established in the country where you are playing.
Voir plus
Customer reviews
4.9/5
(32 notifications)
Par

G. Grigore

le 25/04/2023
Interesting product, I'm still testing it!
Par

Z. Mathieu

le 15/04/2023
Le produit est qualitatif et reçu en bonne états, c'est ce à quoi je m'attendais et ce que je voulais, rien de plus, c'est super
Par

F. Vincent

le 06/04/2023
Fidèle à la légende cet télécommande est top ! Les quelque euros de plus pour la pro valent vraiment le coût !
Par

C. Marco

le 06/04/2023
Super and fast
Par

K. Sébastien

le 30/10/2022
Je viens de la recevoir, et j'ai pas encore pu l'utiliser dans une vraie session (uniquement en simulateur pour le moment), mais ça respire vraiment la qualité, et elle offre une prise en main plus naturelle que les grosses radios.
Par

P. Yoann

le 24/05/2022
Conforme à mes attentes. Produit de qualité, léger et facile à transporter. J'aurais préféré une sangle de cou à la place des goodies (porte-clé, autocollant). La pochette de protection est la bienvenue pour le transport, mais ne sera que d'une faible efficacité en cas de chute.
Par

S. Malek

le 24/05/2022
Radio livré rapidement et en plus mise a jour par DFR le top!!!
Par

T. Emmanuel

le 24/05/2022
excellent
Par

S. Steph

le 19/05/2022
Topisime Arrivée calibrée ´mise a jour plus qu'à binder et volé au top En prime arrivée avec spare et attache pour le tour de coup 👌👍👍👍
Par

T. Emmanuel

le 19/05/2022
top produit
Par

Z. Mansour

le 19/05/2022
Un très bon produit, content de mon achat
Par

L. Jerome

le 19/05/2022
Un forme factor au top (pinch hybrid), Freedom TX facile à paramétrer. Module wifi au top. Cher mais cela vaut son prix
Par

Y. Olivier

le 04/01/2022
Magnifique.
Par

F. Gregory

le 04/01/2022
Beau Bundle qui confirme pourquoi TBS sont au top dans le monde du FPV. Belle finition et qualité globale, sympa de fournir une pochette pour la radio. Je n'ai pas encore testé la portée max, mais avec 25mW, on peut atteindre le bout du monde ! Je regrette toute fois que l'écran ne soit pas OLED et plus élaboré pour cette gamme de produit / prix. Reçue à jour et sticks calibrés ? Je ne sais pas si l'équipé DFR fait ça pour éviter tout problème ?
Par

A. Anonymous

le 18/09/2021
Génial !
Par

A. Anonymous

le 17/09/2021
Sto aspettando la rx che non era disponibile, la radio ha una buona ergonomia e estremamente compatta
Par

A. Anonymous

le 15/09/2021
Je l attendais et elle est la merci de l'avoir eu sur votre site avant tout les autres.... Top qualité... Tbs pas de secret sa reste le top
Par

A. Anonymous

le 24/06/2021
Pour l'instant satisfait la télécommande, elle est sympa bien emballé. pas encore binder sur un drone mais essayé sur simu elle me semble pas mal du tout
Par

A. Anonymous

le 24/06/2021
have to use for a while to give accurate opinion
Par

A. Anonymous

le 30/05/2021
Vendeur au top
Par

A. Anonymous

le 30/05/2021
Pour tout ceux qui veulent attaquer le simulateur une merveille
Par

A. Anonymous

le 30/05/2021
Speed
Par

A. Anonymous

le 05/01/2021
les bugs mineurs des anciennes versions ont disparus et là on plonge dans le 500mw voir même le 1mw... que du bonheur !
Par

A. Anonymous

le 24/09/2020
Correspond parfaitement à mes attentes étant donné que je ne pilote que des quads. Belle finition, radio légère, les switchs un vrai régal il faut vraiment y aller pour les casser. Les 2 points négatifs pour moi sont la taille de l'écran et le fait que la baie multiprocole soit encore en option et non native.
Par

A. Anonymous

le 31/07/2020
Radio de très bonne qualité. La taille est parfaite. Crossfire intégré le rêve !
Par

A. Anonymous

le 31/07/2020
Comfortable, excellent quality.
Par

A. Anonymous

le 31/07/2020
RAS, la radio à avoir quand on se déplace sans véhicule, elle tient dans la poche, pseudo OpenTX, portée bien au delà de ce dont on a besoin, parfait !
Par

A. Anonymous

le 31/07/2020
Venant du monde flysky, j'apprécie le côté higtech de cette marque, et la fiabilité du signal, l'essayer c'est l'adopté. Convient parfaitement a mon utilisation « freestyle », adieu les failsafes... les sticks pliables peuvent abîmer le plastique de la télécommande en position pliée, mais sur thingiverse vous trouverez des solutions 3dprintables...
Par

A. Anonymous

le 31/07/2020
Très bonne radiocommandé. Compact, élégante et Crossfire intégré
Par

A. Anonymous

le 13/06/2020
Ergonomie parfaite !
Par

A. Anonymous

le 13/06/2020
Très beau produit mais je trouve dommage qu'il soit commercialisé malgré encore quelques bugs. Être obligé de débrancher la batterie pour reboot le système n'est pas trop safe... Il faut donc faire attention de ne pas éteindre la RC alors qu'elle est branchée. Sinon les joysticks sont vraiment bien.
Par

A. Anonymous

le 13/06/2020
Livraison rapide, très bon produit