Manufacturer : T-Motor / Référence : TMOTOR-PACER-F7-FC
T-Motor Pacer F7 Flight Controller (MPU6000)
Shipping costs
from 49€ pour France
Same day shipping
for orders placed before 3:30pm (Monday to Friday)
Caractéristiques techniques
T-Motor's first F7 Flight Controller has arrived! Logical layout, designed to work seamlessly with the T-Motor F45A 2.0 et F55 PRO II, V45A, P50A, P60A.
Upon receiving your FC,please connect to USB and calibrate before continuing to build and solder to it.
Specifications
Enlarged pad design and distributed on the edge which makes soledring easier
Integrated OSD chip, support Betaflight OSD
6x Hardware Uarts serial ports, more devices can be connected
Support 3-6S Lipo direct power supply
Support 5V/3A BEC power supply
Gyro : MPU6000
Support analog camera control fonction
Onboard 16M flash memory chip for Blackbox data recording
Using LC Filter circuit to bring a more stable image transmission picture
Fully compatible with T-Motor F45A 2.0 et F55 PRO II, V45A, P50A, P60A
Three set of 10V BEC pads are reserved on the front and back sides which are convenient for image transmission and other equipment to get power (only available when connected to T-Motor 4in1 ESC)
Mounting: 30.5x30.5mm
Weight: 7.5g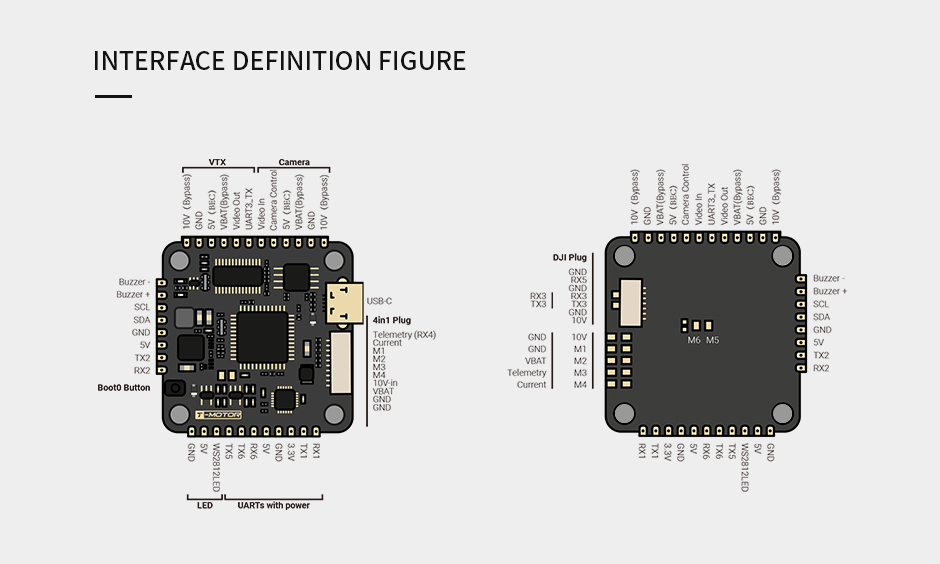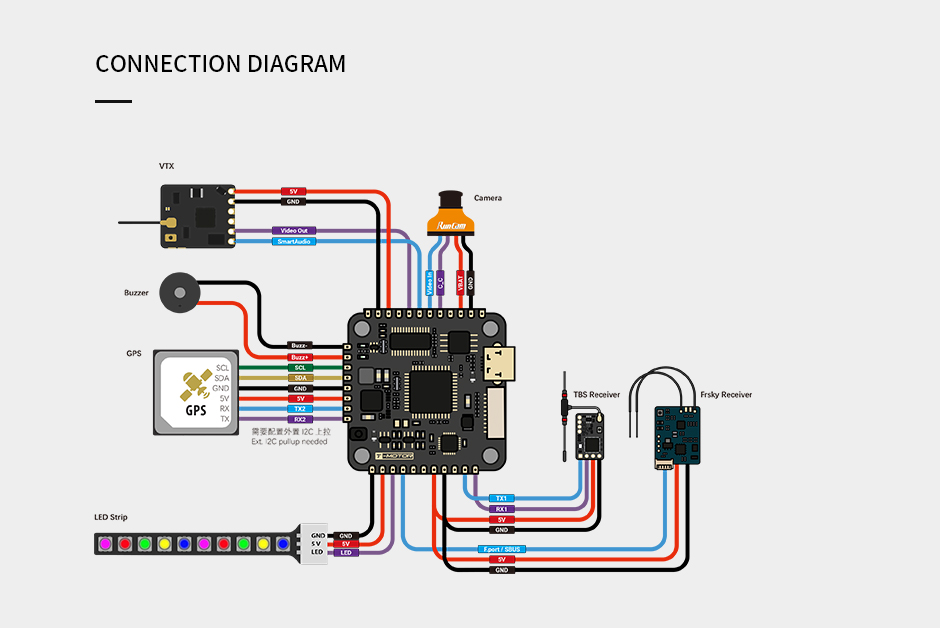 Includes
Voir plus
Customer reviews
4.7/5
(6 notifications)
Par

J. Cédric

le 13/07/2022
Bien mais l'alim tombe assez vite en rad, c'est ma 3ème...
Par

N. Mikko

le 07/05/2022
Great flight controller from T-Motor. Easy to solder.
Par

C. Dimitri

le 07/11/2021
Super fc
Par

P. Lachezar

le 25/09/2021
One of the highest quality flight controlers.
Par

C. Mickael

le 26/08/2021
Pas encore testée ; dommage que le plug pour le câble vers l'ESC soit sur le côté, alors que la T-Motor Pacer P60A prévue pour est placée à l'avant (ça tire sur le câblage).
Par

A. Anonymous

le 26/05/2021
Très bonne FC.