Manufacturer : Caddx / Référence : CADDX-NEBULA-PRO-VISTA
Nebula PRO Vista Kit HD System
Shipping costs
from 49€ pour France
Same day shipping
for orders placed before 3:30pm (Monday to Friday)
Caractéristiques techniques
The Caddx Nebula Pro Vista Kit 720p/120fps Low Latency HD Digital FPV System is the next generation Vista set with new and improved Nebula Pro camera.
The Caddx Nebula Pro Digital FPV Camera Kit is another advanced video transmission module by Caddx and fully authorized by DJI that supports a 5.8GHz digital video signal and 720p 120fps image transmission. The Caddx Nebula Pro with Vista is designed for FPV drones and it can be used with DJI FPV Goggles, which provide digital high-definition picture and a transmission range up to 4km. The Vista system allows up to eight drones to fly simultaneously. Each operator has an exclusive channel, which helps reduce cross-interference and provides an optimal racing experience.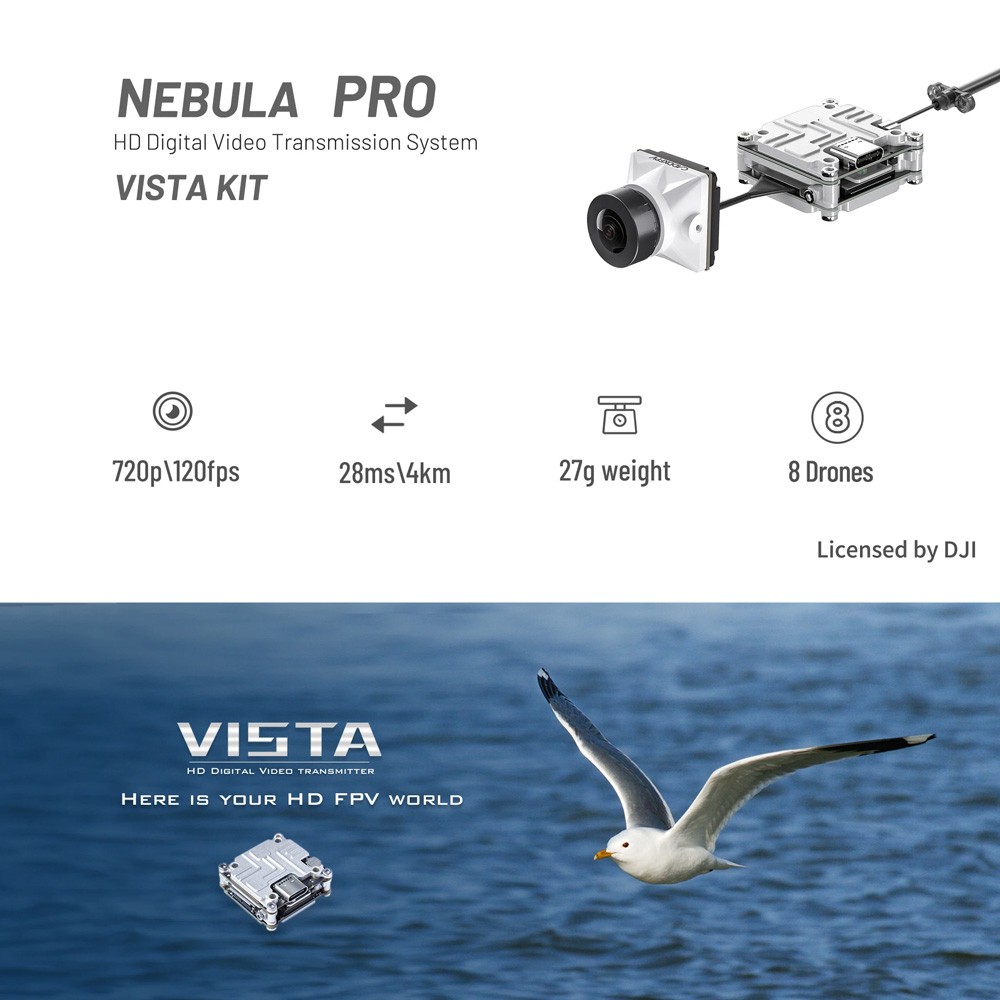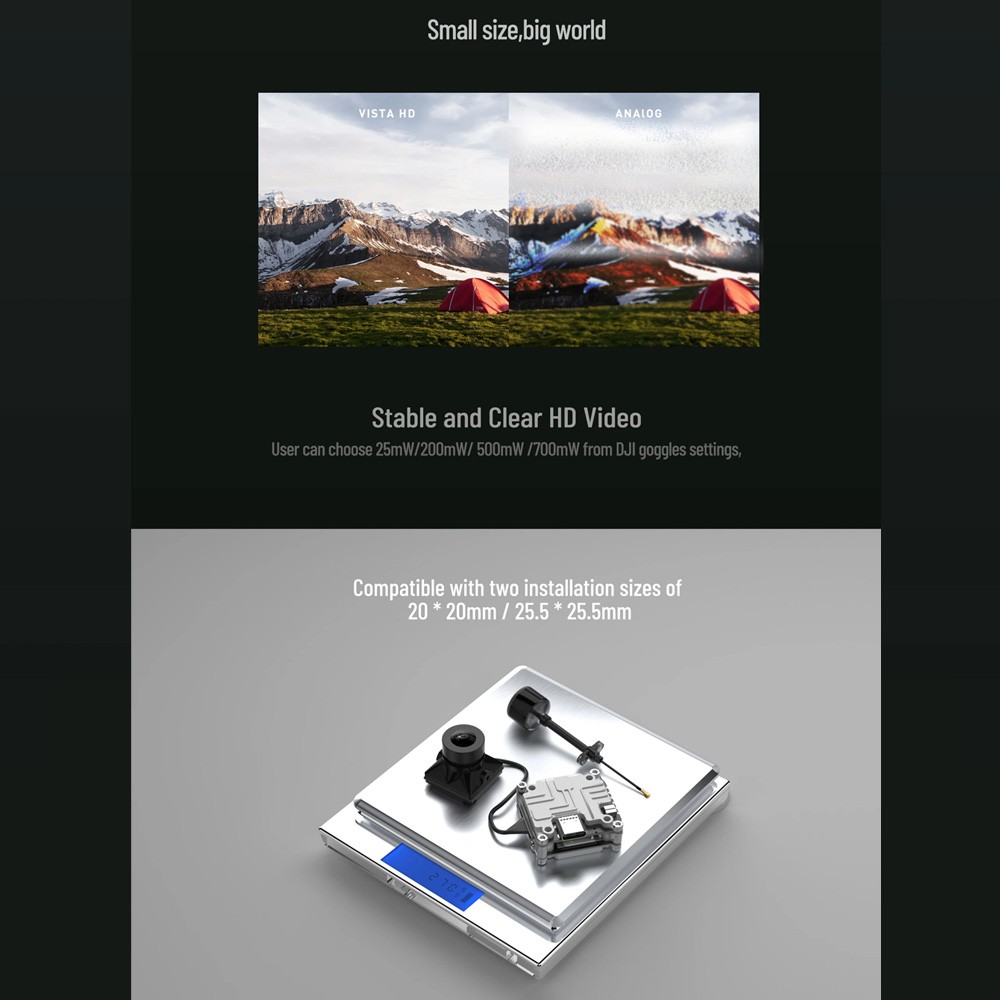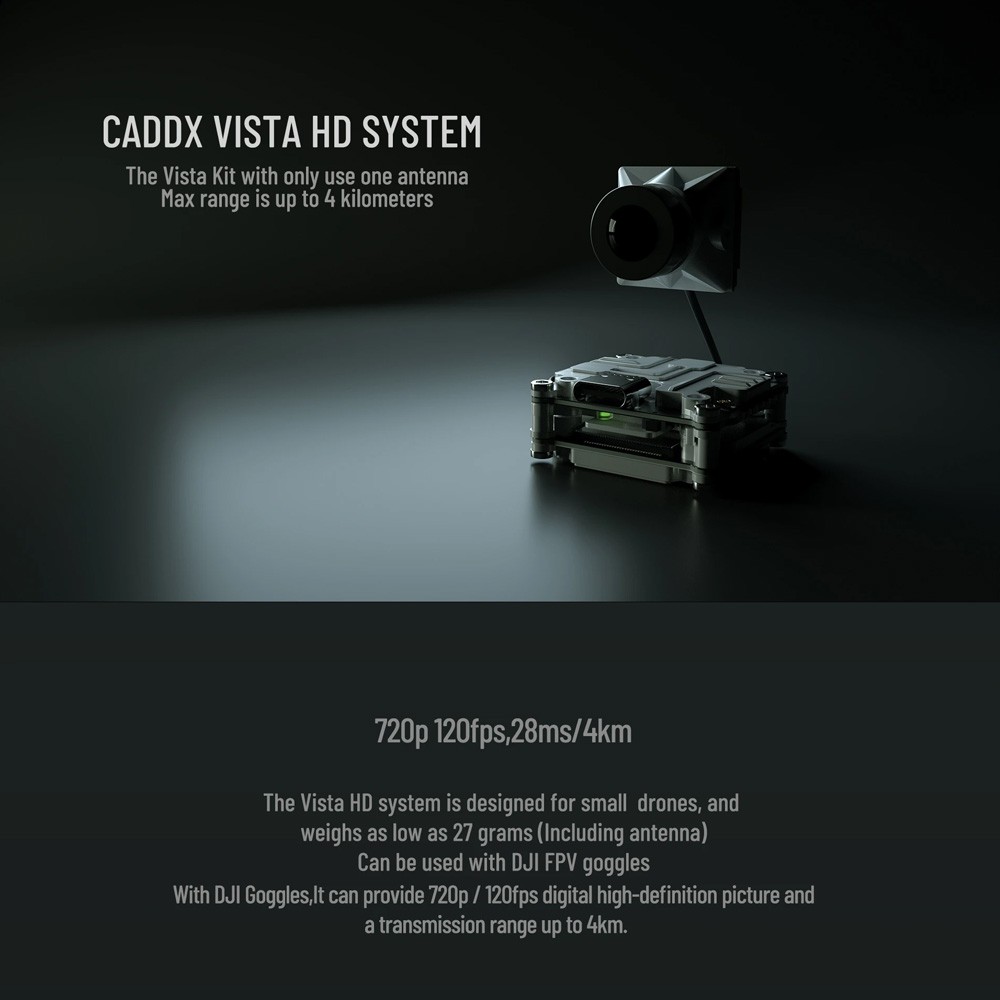 * Important note: French regulations impose a maximum power of 25mW in the 5.8 Ghz frequency, as well as dual control piloting to practice immersion flight (FPV). The responsibility of Drone-FPV-Racer cannot be engaged for any use of this material without an adequate license.
Features
Lightweight digital image transmission combination
Stable and clear HD video
720p 120fps, 32ms/4km
8 channels, 8 drones
Embedded Remote Controller Receiver
Specifications
Model: Vista Kit (Nebula Pro)
Weight: Camera included: 27g/Antenna:2.5g
Dimensions:

Vista Kit: 30x29x13mm
Camera: 19x19x20mm

Coaxial Cable:80mm/120mm
Operating Frequency: 5.725-5.850GHz
Transmitter Power(EIRP): FCC/SRRC/MIC: <30dBm, CE: <14dBm
Min. Latency (end-to-end):

Low Latency 720p 120fps: 12-28ms
High Quality Mode: 720p 60fps: 30-40ms

Max. Transmission Distance: FCC/SRRC: 4km, CE: 0.7km
I/O Interface: USB-C,IPEX,3-in-1 Port
Supported Flight Control System: F3,F4,F7
Operating Temperature Range: 32° to 104° F (0℃ ~40℃)
Input Power: 7.4-26.4V
Power output: 25mW/200mW/500mW/700mW
Hardware included:Vista/Nebula nano/Coaxial cable/Antenna
Goggles: work with DJI goggles
Camera:Sensor: 1/3''CMOS
Lens: 2.1mm,f/2.1
Shutter: Rolling shutter
FOV: 150°[D],122°[H],93°[V]
Included 
1 x Caddx Nebula Pro Vista Kit 720p/120fps Low Latency HD Digital FPV System
Voir plus
Customer reviews
4.8/5
(25 notifications)
Par

M. Guillaume

le 08/11/2022
Fonctionne parfaitement. Parfait RAS
Par

D. Emmanuel

le 24/10/2022
une très bonne caméra
Par

B. Max

le 24/10/2022
Bild ist etwas zu gelb
Par

P. Benjamin

le 18/10/2022
Nice
Par

T. Xavier

le 10/10/2022
Fais le job
Par

V. Sébastien

le 01/09/2022
Bonne qualité et très compact. Chauffe beaucoup lorsque le drone ne vole pas en revanche.
Par

C. Laurent

le 18/08/2022
Bon produit avec très peu de latence pour le nebula pro le prix reste quand même un peu élevé c'est le seul bémol
Par

F. Philippe

le 10/07/2022
Top attention caméra format micro
Par

P. Fabien

le 18/06/2022
classico RAS
Par

P. Arnaud

le 12/05/2022
Ma préférée
Par

H. Sorel

le 19/04/2022
Déjà installé et reste qu'à le tester. Impeccable
Par

M. Sébastien

le 09/04/2022
Super qualité d'image, ça marche du tonnerre.
Par

D. Nicolas

le 28/03/2022
Facile à monter et super qualité Attention ça chauffe vite
Par

B. Mélanie

le 10/03/2022
Très bien, conforme à mes attentes, je recommande
Par

L. Cedric

le 07/03/2022
Très bien, conforme à mes attentes, je recommande !
Par

P. David

le 17/02/2022
génial!
Par

V. Fabien

le 17/02/2022
Finitions impeccables par rapport à d'autres versions dont le faisceau est moins bien protégé.
Par

S. Marcos

le 12/02/2022
Awesome quality!
Par

E. Bassema

le 25/01/2022
Très satisfait bonne qualité, peu de latence dans le masque DJI V2 et Pour la meilleure visibilité avec un combo New antennes TrueRC X2-air 5.8 MK II c'est parfait !!! A recommander :)
Par

A. Anonymous

le 16/05/2021
pas encore testé mais le matériel est de qualité, le placement aisé.
Par

A. Anonymous

le 13/02/2021
Camera légère qui loge parfaitement dans mon 4 pouces, super image digne de la Dji! 😙
Par

A. Anonymous

le 28/01/2021
nickel image (presque mieux que l'origine à mon sens.. moins saturé et plu doux..), enfin une cam au format mini, (19mm) par contre le fil est cours, (11cm). (mais je me plain, les vista c 8cm!) donc mis à part l'antenne trop courte, (vista classique aussi..), tout est NICKEL.
Par

A. Anonymous

le 26/01/2021
Parfait, belles images
Par

A. Anonymous

le 16/01/2021
pas encore installé . Une visserie en M2 serait la bienvenue pour fixer le vista . Le clip pour maintenir l'antenne sur le vista est un peu galère à utiliser .
Par

A. Anonymous

le 09/01/2021
still untested