Manufacturer : KISS / Référence : KISS-FC-V2
KISS FC V2 - Flight Controller 32bit
Shipping costs
from 49€ pour France
Same day shipping
for orders placed before 3:30pm (Monday to Friday)
Caractéristiques techniques
The Kiss FC V2 flight controller by Flyduino.
Upon receiving your FC,please connect to USB and calibrate before continuing to build and solder to it.
A new simplified Flight controller, the KISS FC V2 includes a complete own Flight Control Firmware development.
The Idea was to get the simple KISS FC to the next level and due to intensive long term tests of some pretty good Pilots we were able to optimize the code to a point where you hopefully get your quad in the air quite quick.
Normally you just need to choose your Airframe in the GUI and you are able to fly (at least with KISS ESC), otherwise you can download presets of well known pilots for given configurations. 
And of course you can tweak the PID yourself through the GUI.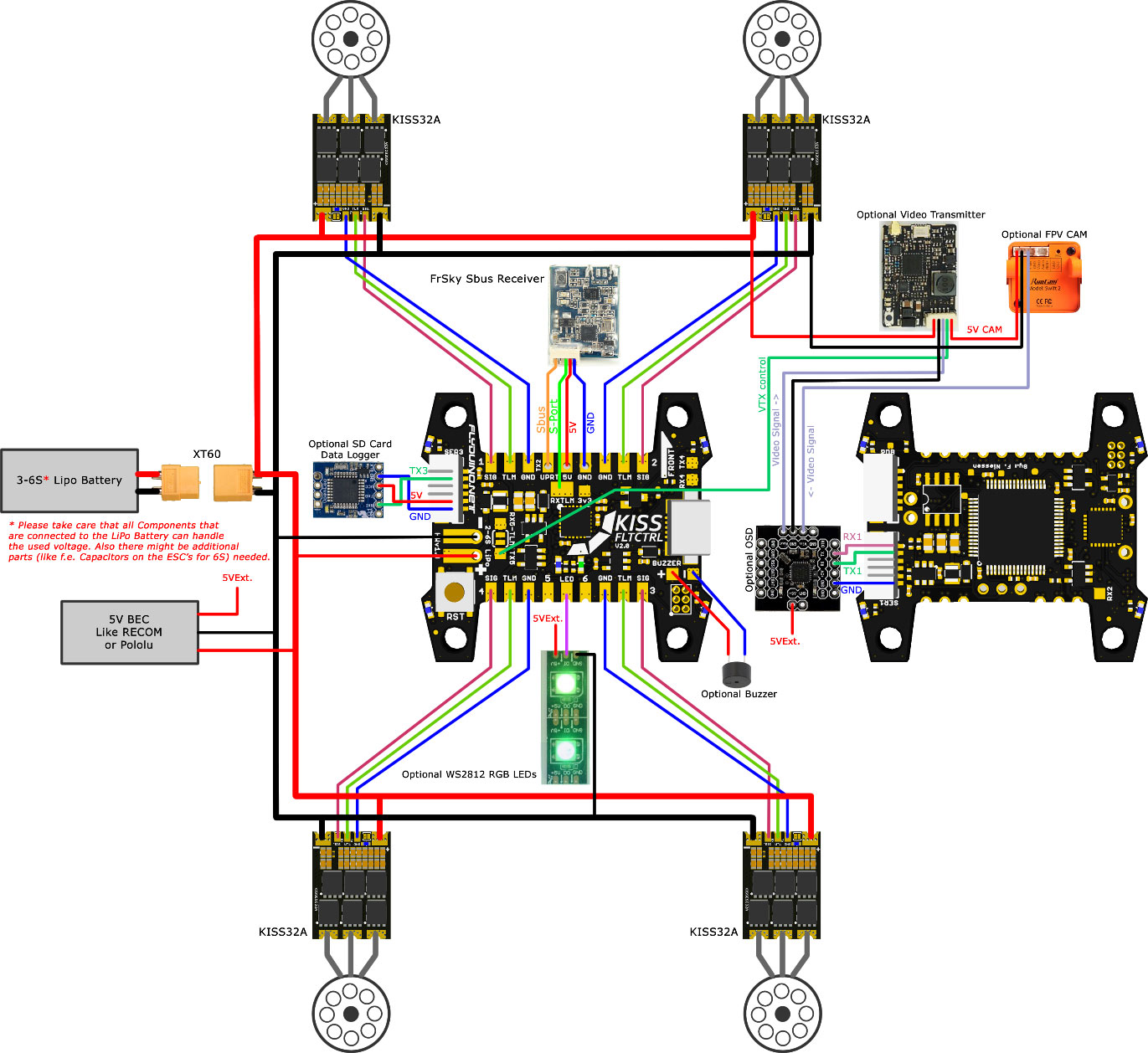 Specifications
STM32F722RET6 MCU, ARM-Cortex M7 with FPU running at 216Mhz
MPU6000 Gyro and ACC Sensor
Integrated DCDC converter for direct LiPo battery input (2-6S 6-30V) max 500mA on 5V
The first four ESC outputs are amplifyed to 5V Signal with very fast drivers (for a clear Dshot signal)
CP2102 USB-UART USB controller for simpler updates with the KISS Bootloader
MCU: STM32F722RET6 @216Mhz
Weight: 5g
Mounting Holes: 3x3cm pattern with 3.3mm holes (compatible with most frame types
Voltage: 2-6S (direct)
Now supports up to 7 AUX channels
Download
Included
1x KISS FC V2 - Flight Controller 32bit
Voir plus
Customer reviews
4.7/5
(36 notifications)
Par

C. Marc

le 09/09/2021
excellente carte de vol sous Kiss - peu d'alternatives au 09/2021 : la FETtec quand elle est dispo, et sinon la Ultra FCFC à venir mais difficile à trouver...
Par

C. Mathieu

le 30/08/2021
le top en attendant la version ultra
Par

R. Alba

le 16/03/2021
Fiable y facil de configurar
Par

G. Gregorio

le 01/12/2020
Probabilmente la migliore fc che esiste
Par

A. Anonymous

le 04/09/2020
ok à part le problème d'activation à cause d'un bug chez Flyduino pour un ou plusieurs lots
Par

A. Anonymous

le 27/08/2020
Kiss super matos. Livré vite RAS
Par

A. Anonymous

le 27/05/2020
Contrôleur de vol au top .rien a dire ,
Par

A. Anonymous

le 27/05/2020
Perfetta
Par

A. Anonymous

le 19/11/2019
C'est vraiment de la qualité
Par

A. Anonymous

le 02/09/2019
Dont work
Par

A. Anonymous

le 28/08/2019
Gyro défectueux (le gyro affiche des valeurs X et Y fluctuantes alors que le drone est à plat). Mon 1er test a duré 3sec. Les moteurs se sont emballés à cause de mesures Gyro erronées. J'ai tenté de reflasher le firmware vers une version plus ancienne, meme symptomes. Comme je vole dans des espaces étroits (sous-bois), le GYRO est indispensable pour le vol Stabilisé. En mode ACCRO, le phénomène d'emballement des moteurs ne survient pas (car Gyro non utilisé). J'ai recommandé une autre Kiss V2 en espérant que le GYRO soit OK.
Par

C. Federico

le 19/08/2019
la mia fc preferita spettacolare
Par

V. Alin

le 08/06/2019
Super ok
Par

B. Jan

le 03/06/2019
Im a Kiss build fan for the moment
Par

N. Naik

le 23/04/2019
pas encore testé mais beau produit !
Par

D. Jehan

le 17/03/2019
Après avoir testé betaflight, quelle claque de revenir chez kiss.. Simplicité et feeling incroyable, sceptiques, n'ayez crainte ! Vous ne serez pas déçus.
Par

L. Michael

le 14/02/2019
Best ever
Par

A. Anonymous

le 14/11/2018
FC facile à paramétrer. Bon comportement en vole avec peu de réglage.
Par

A. Anonymous

le 09/10/2018
good item
Par

A. Anonymous

le 01/10/2018
Sirius fc !
Par

A. Anonymous

le 09/09/2018
Deuxième commandée, toujours pas déçu de KISS!
Par

A. Anonymous

le 09/09/2018
Grosse différence avec la kiss v1 !
Par

A. Anonymous

le 21/08/2018
Rien à dire
Par

A. Anonymous

le 09/08/2018
Having tried many flight controllers this one flies by far the best without having to mess with filters. Just PIDs and good to go.
Par

A. Anonymous

le 09/08/2018
Juste parfaite
Par

A. Anonymous

le 29/07/2018
nickel
Par

A. Anonymous

le 10/07/2018
J'ai vraiment voulu tester Kiss après avoir entendu tout le monde en parler. La seule remarque est qu'elle galère avec mes ESC, je n'arrive pas à les flasher. Donc si vous voulez une FC Kiss, pensez à utiliser des ESC Kiss.
Par

A. Anonymous

le 13/06/2018
Au Top
Par

A. Anonymous

le 16/05/2018
la rolls des carte de vol, l'essayer, c'est l'adopter. vol parfait avec le setup de base. intégration particulière toutefois car pas d'osd intégré, je déconseille pour un premier build ou pour un débutant, pour les autres: n'hésitez pas et jeter votre ancienne FC dans un tiroir...
Par

A. Anonymous

le 02/05/2018
Sur conseil d'amis j'ai testé. ...Et adopté ! Vraiment top cette v2
Par

A. Anonymous

le 02/05/2018
Fantastic
Par

A. Anonymous

le 29/03/2018
De lo mejor en controladoras, kiss es sim duda la mejor!
Par

A. Anonymous

le 17/03/2018
Une magnifique FC avec une prise en main des réglages simple et très efficaces via l'interface GUI! Un vol sans faille et fluide à souhait, je recommande!
Par

A. Anonymous

le 04/03/2018
Le top des fc pour le freestyle.
Par

A. Anonymous

le 18/02/2018
Super produit ! Après le montage j'ai testé le vol , c'est magique !
Par

A. Anonymous

le 20/01/2018
Fc terrible