Manufacturer : TrueRC / Référence : TRUERC-STUBBY-DJI-RHCP
TrueRC Singularity 5.8GHz Stubby (4-pack for DJI) Antenna - RHCP
Shipping costs
from 49€ pour France
Same day shipping
for orders placed before 3:30pm (Monday to Friday)
Caractéristiques techniques
4-pack of singularity 5.8 stubby made especially for the DJI fpv system goggle. Antennas are direct fit with much lower profile than stock and over 50% more range!
Caution: DJI and Walksnail systems use LHCP polarization by default.
SPECS:
Gain: 1.9dbic
Cross-Polar Rejection: -15 to -30dB (1.9%)
Bandwidth: 5.6GHz-6.0GHz
Radiation Efficiency: 99%
SWR: <=1.5:1
Weight: 3.7 g
Size: 12.7mm x 20mm
Connector: RP-SMA
Voir plus
Customer reviews
3.5/5
(2 notifications)
Par

A. Anonymous

le 11/07/2020
Elles sont bien mais un poil trop courte pour être parfaitement visé. le produit est un peut chère quand même.
Par

A. Anonymous

le 03/05/2020
reception améliorée avec un retour video plus fluide par rapport a celle d'origine avec les quelles j 'ai eu des coupure des saccades d'image je les recommande pour un Setup patch trueRC + 2 omni parfait 👌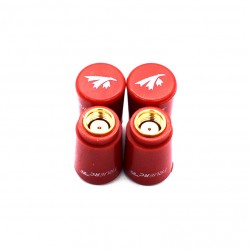 TrueRC Singularity 5.8GHz Stubby (4-pack for DJI) Antenna - RHCP