Manufacturer : Team BlackSheep / Référence : TANGO2
TBS TANGO 2
Shipping costs
from 49€ pour France
Same day shipping
for orders placed before 3:30pm (Monday to Friday)
Caractéristiques techniques
The perfect take-anywhere remote. Compact, robust and with TBS Crossfire built-in.
Note: Board V3
REDEFINING THE REMOTE CONTROL
TBS has been at the forefront of perfecting the interface between drone and mind. The TBS Tango 2 changes how remote controls will be from here on out! Despite being the smallest remote control available, it comes with full size HAL gimbals, full-featured FreedomTX (temporary OpenTX fork), the lowest end-to-end latency of any remote and transmission system, unbreakable 3 & 2-position switches, open source operating system, built-in battery, USB-C charging, and so much more! It's not just a retouched game controller, it was designed from the ground up for R/C! The form factor and features make it the ideal take-anywhere, fly-anytime remote control. 
CROSSFIRE INSIDE
The first radio with TBS Crossfire built in. This significantly lowers your cost, increases reliability and minimizes set up time. And the cherry on top are the LUA scripts being part of the familiar user interface. The antenna swivels out of the way, or doubles as a kick-stand when resting. TBS Cloud ready to go from the start. It all just makes sense.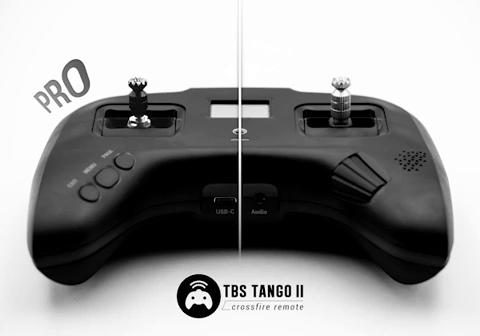 FEATURES
Full size HAL sensor gimbals
Ball-bearing


Configurable resistance and tension
Adjustable throttle & pitch throw (+/- 10 degrees)
Spare spring set included for lower tension
Foldable gimbal sticks (Pro only)

Ergonomic and compact design with comfy rubber grips
Robust, streamlined switches


2x 2-position switches
2x 3-position switches
2x momentary buttons

TBS Crossfire built-in


CRSFShot for lowest latency and most direct response of any remote control available
Range of up to 30km* / 20mi from the palm of your hand
Swivel-antenna that doubles as a kick-stand
Up to 12 channels supported

Built-in 5000mAh 1S LiPo with USB-C 2A charging (2.5 hours for full charge)
Speech audio output with audio jack & haptic vibration alert
Open Source remote control operating system (FreedomTX, temporary fork of OpenTX)
Rocker dial and 3 button menu for super simple navigation
High resolution (128*96) black & white OLED screen w/ backlight
Digital rocker dial trim
100+ model memory with included SD-card
TBS Cloud compatible
TBS TANGO 2 INCLUDES
1 x Tango 2 Pro
1 x Velvet Carry Bag with TBS Logo
1 x Springs Set ( Default and Lower Tension)
2 x Throttle limitation screws (with allen key)
1 x Sticker Sheet
1 x Tango 2 3D KeyChain (will only be included in the first run)
MORE INFORMATION
*Power and distance are subject to specific regulations, be sure to respect those established in the country where you are playing.
Voir plus
Customer reviews
5/5
(31 notifications)
Par

B. Sarkis

le 06/05/2023
Top.
Par

C. Simon

le 06/04/2023
Great service and fast delivery. So nice to have a place in Europe that has most things in stock. Wide range of items to choose from and website easy to use.
Par

B. Erwan

le 28/03/2023
Très bon produit
Par

B. Kilyan

le 28/03/2023
Top!
Par

H. Benjamin

le 19/03/2023
J ai longtemps hésité j avais une dx6 v2 sepktrum pas pratique les inter était toujours action dans le mauvais sens et la j ai craqué a penne reçu charger régler avec quelques petit tuto merci dfr la taille parfait les sticks très doux le prix pour un Crossfire radio TBS le combo parfait et maintenant je vais voir pour la pochette torvol suis pour protéger cet magnifique radio j adore
Par

L. Perrine

le 08/02/2023
La radio était un cadeau mais le propriétaire semble vraiment très satisfait avec sa petite taille et ses diverses fonctionnalités Il a vraiment vu une différence sur le maintient dans la main et la sensibilité des sticks comparé à son ancienne radio
Par

F. Jonathan

le 02/02/2023
Merci beaucoup 😊
Par

B. Maxime

le 02/02/2023
Géniale !
Par

M. Jérémi

le 29/05/2022
Convient totalement à mes attentes, tout est parfait
Par

S. Malek

le 29/05/2022
Très bonne radio
Par

L. Stephane

le 27/05/2022
Viens de la recevoir. Pour l instant tout va bien
Par

M. Axel

le 27/05/2022
Parfait
Par

F. Elisa

le 10/04/2022
Ok ok ok
Par

A. Anonymous

le 06/08/2021
une tango 2 quoi !!!!
Par

A. Anonymous

le 06/08/2021
Je l'utilise seulement depuis 15 jours mais quel plaisir d'avoir une radio aussi puissante dans un volume aussi faible, le tous avec une prise en main parfaite. Je recommande !
Par

A. Anonymous

le 06/08/2021
Je ne vais pas repasser sur les nombreux avantages de cette télécommande. Étant débutant je me suis fié aux nombreux bons avis, je dirai que venant du monde assisté dji, faut se faire au fait de tout configurer sur un écran assez petit. Beaucoup de fonctionnalités, le crossfire et compacte, le top 👍🏽
Par

A. Anonymous

le 06/06/2021
Testé que sur simulateur pour le moment, bonne prise en main. Semble de bonne qualité, à voir dans la durée.
Par

A. Anonymous

le 30/05/2021
Paramétrage simple (en venant d'une QX7), pas encore essayé en vol mais bonne prise en main.
Par

A. Anonymous

le 30/05/2021
Compact, durable, parfait pour mon utilisation. Attention, ne prend que le crossfire.
Par

A. Anonymous

le 30/05/2021
Super produit
Par

A. Anonymous

le 26/01/2021
Très très bon rapport qualité prix. Plastique de qualité, software agréable. Je recommande à 100%
Par

A. Anonymous

le 14/01/2021
Nickel, correspond aux attentes, compact, plastique tellement plus qualitatif qu'en photo, je recommande.
Par

A. Anonymous

le 09/01/2021
Top, prise en main cool et simple
Par

A. Anonymous

le 09/01/2021
Le top de la RC !
Par

A. Anonymous

le 08/01/2021
Tout va bien pour l'instant.
Par

A. Anonymous

le 27/08/2020
Super radio
Par

A. Anonymous

le 16/06/2020
J'ai pas trop eu le temps de vraiment la tester mais, ca a l'air d'etre un bon voir un tres bon produit. Le rapport qualité prix est tres satisfaisant. Je verrai dans le temps comment elle évolue
Par

A. Anonymous

le 20/02/2020
Achat de la tango 2 très bonne radiocommande avec Crossfire intégré répond parfaitement à mes besoins pour les quad, portée largement suffisante pour mon utilisation
Par

A. Anonymous

le 19/02/2020
Pas encore eu le temps de faire tout le tour mais les 2 /3 vols un régal, facilement transportable, génial ! Et le service client toujours au top !
Par

A. Anonymous

le 19/02/2020
Bonne qualité et super prise en main.
Par

A. Anonymous

le 19/02/2020
Ergonomique et pas cher pour ce que c'est