Manufacturer : Emax / Référence : EMX-2236
Emax AVAN Tinyhawk Turtlemode 40mm Propellers - (2xCW+2xCCW)
Shipping costs
from 49€ pour France
Same day shipping
for orders placed before 3:30pm (Monday to Friday)
Caractéristiques techniques
Emax AVAN Turtlemode 40mm propellers specially made for EMAX 08025 motors and Tinyhawk
Sold by set of 2 pairs of propellers.
AVAN Turtlemode 40mm EMAX propellers have been designed to bring your micro to the most extreme limits.

Specially made for EMAX 08025 motors and the Tinyhawk frame for indoor flights.
Specifications 
Propeller Properties:
Diameter: 40mm
Blades: 4
Pitch: 31mm
Weight: 0.63g
Color : red
Voir plus
Customer reviews
4.7/5
(20 notifications)
Par

M. Caminade

le 19/05/2023
Adapté à mon usage
Par

M. Didier

le 16/03/2023
ras...
Par

M. Romio

le 17/02/2023
Ricambio perfetto
Par

L. Jean

le 08/02/2023
Les hélices sont conformes et répondent au besoin. Merci
Par

G. Thomas

le 10/10/2022
Super en mauve .
Par

P. Nicolas

le 06/09/2022
Bonnes hélices, conforme ! Livraison rapide, RAS !
Par

F. FT

le 19/05/2022
Aucun problème :)
Par

A. Anonymous

le 09/09/2021
Pas encore monté livraison rapide
Par

A. Anonymous

le 27/07/2021
Tiennent mieux que les hélices d'origine, notemment pour les flip, pourtant ce sont les mêmes ?!
Par

A. Anonymous

le 30/06/2021
conforme
Par

A. Anonymous

le 26/05/2021
ottimo
Par

A. Anonymous

le 12/04/2021
Malheureusement impossible de laisser un avis je ne l'ai pas eu
Par

A. Anonymous

le 07/01/2021
Qualité d'origine
Par

A. Anonymous

le 27/05/2020
Pas pu essayer encore
Par

A. Anonymous

le 14/05/2020
100% satisfaits, expédition ultra-rapide et prix des revendeurs chinois. que demander de plus en europe?
Par

A. Anonymous

le 19/02/2020
Les hélices sont rarement endommagées à leurs extrémités car la coque du drone est bien conçue pour les protéger. En revanche, les chutes peuvent endommager la charnière centrale, les hélices peuvent se fissurer et comme il y a moins d'accroche, la vitesse du rotor devient perturbée : le drone ne décolle plus. Les hélices se changent facilement et rapidement une fois que l'on sait qu'il faut appliquer une petite pression sur la partie centrale métallique avec un petit tournevis et tirer le milieu des pales vers soi.
Par

A. Anonymous

le 14/11/2019
enfin le mode turtle sur mon kwad , ,content.
Par

R. Tepuanui

le 26/06/2019
pas encore essaye
Par

M. Marco

le 23/04/2019
Las mejores que hay para este tinywhoop
Par

D. Kavallaris

le 12/02/2019
Excellent selection of products, lightning fast delivery. Would prefer this questionnaire in English though, your clientele is also outside France, is it not?.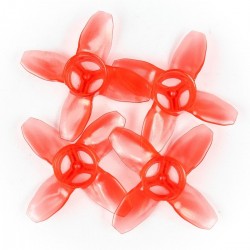 Emax AVAN Tinyhawk Turtlemode 40mm Propellers - (2xCW+2xCCW)