Manufacturer : DJI / Référence : 6941565939739
DJI Avata et Googles 2 Pro View Combo
Shipping costs
from 49€ pour France
Same day shipping
for orders placed before 3:30pm (Monday to Friday)
Caractéristiques techniques
DJI Avata
Born to Fly
Weighing around 410 grams, this new generation of Cinewhoop will allow you to shoot in 4K at up to 60 frames per second and benefit from RockSteady and HorizonSteady digital stabilization.
Several driving modes are available, depending on your level or the desired shots (Normal, Sport and Manual Mode)
Obstacle detection system downwards
In addition to the integrated propeller protection, Avata presents a lower binocular vision system and ToF infrared optical detection, for even more safety. These sensors detect downward obstacles and allow Avata to fly at low altitudes or indoors.
Lightweight security
Enjoy the experience without the fear of flying. The motion controller's Emergency Brake button stops the hovering drone with one click. In addition, RTH provides additional protection in the event of low battery or signal loss.
Featuring Turtle Mode and durable propeller guards, the AVATA is also equipped with a 1/1.7-inch CMOS sensor, DJI supports 4K ultra-wide-angle recording with an f/2 aperture, 8.
A super wide 155° field of vision
Most camera drones offer, at best, an 84° field of view. DJI Avata raises the bar with its super wide 155° FOV. This extended perspective is close to what our own eyes can see, creating an impactful and ultra-immersive visual.
Fluid grips
With RockSteady 2.0 and HorizonSteady, your shots stay stable no matter how the camera twirls. These flagship technologies open up a world of cinematic possibilities by reducing camera shake and ensuring smooth ultra HD video.
RockSteady actively reduces camera shake in real time.
HorizonSteady locks the horizon of your shot for cinematic effects.
Flexibility in post-processing
Immerse yourself in a world of color while filming in D-Cinelike mode. Your shots look vibrant with advanced color grading in post-processing for creative masterpieces.
The perfect combo
DJI Goggles 2 is compact and ultra portable. Its foldable antennas and lightweight design make it easy to store and comfortable to wear for an extended period of time. With its two-hour battery life and fast-charging capability, you're always ready for aerial immersion.
1080p micro-OLED displays
Experience every flight to the fullest with DJI Avata and Goggles 2. Dual micro-OLED HD displays deliver dazzling clarity and a maximum refresh rate of 100Hz. immersive endless possibilities.
Diopter adjustment
DJI Goggles 2 offers the ability to adjust diopter from +2.0D to -8.0D for improved viewing and comfort. Lock the diopter adjustment dial to fix the diopter and prevent accidental operation during use or storage.
A most reliable transmission
Avata features DJI's flagship O3+ video transmission and 2T2R omnidirectional antennas for unparalleled stability and responsiveness during flight. Enjoy a smooth real-time view in your headset even in interference environments.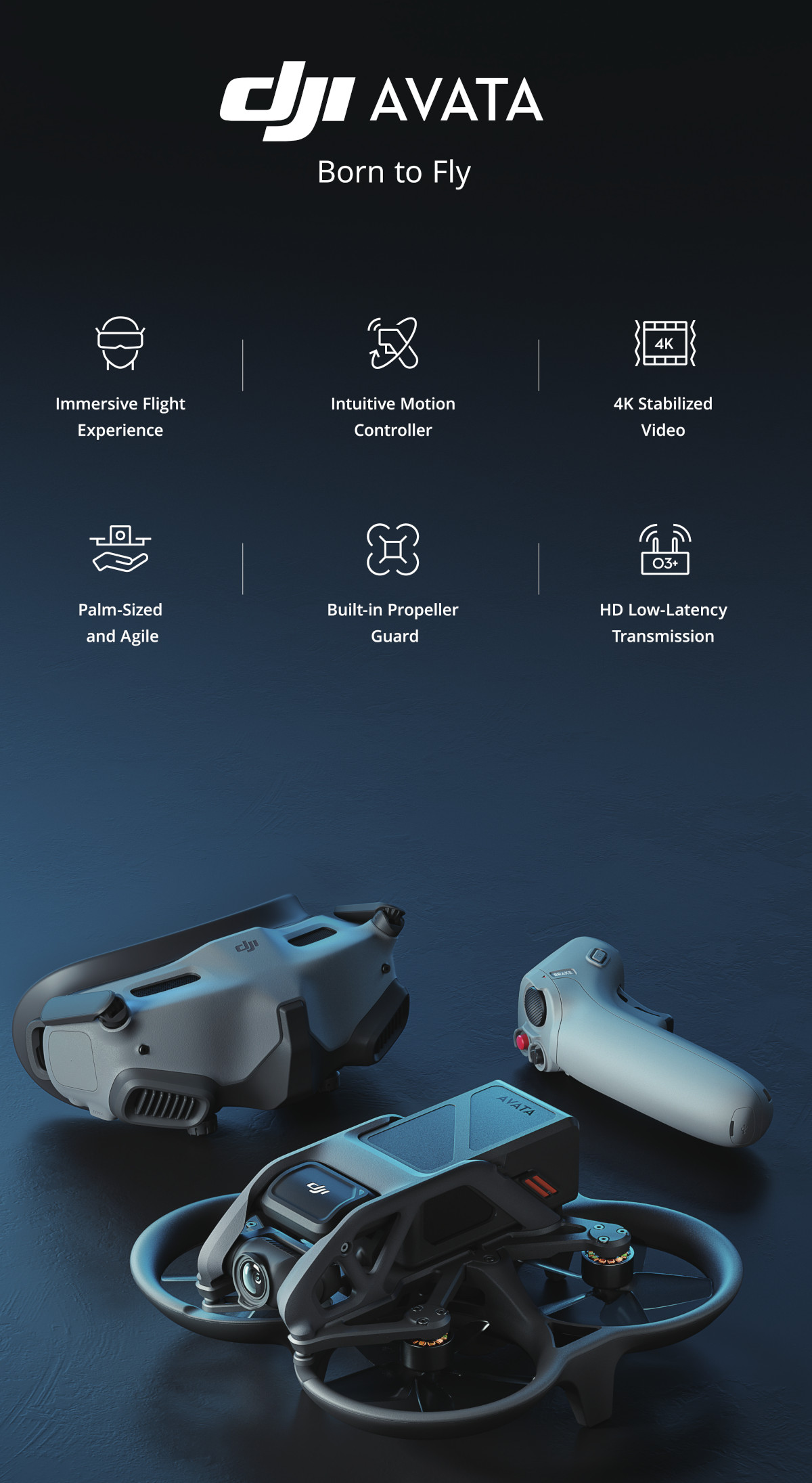 Product content:
1x DJI Avata
1x DJI Avata Intelligent Flight Battery
3x DJI Avata Propellers (pair)
1x DJI Avata Power Adapter
1x DJI Avata Gimbal Protector
1x USB-C to USB-C PD Cable
1x Screwdriver
4x Screws (M2x7)
1x DJI Goggles 2
1x DJI Goggles 2 Battery
1x Goggle Frames (pair) DJI Goggles 2
1x DJI Goggles 2 Screen Protector
1x DJI Goggles 2 Headband
1x DJI Goggles 2 Power Cable
1x Dual Frequency Antenna (pair) DJI Goggles 2
1x OTG Cable
1x DJI Motion Controller
1x Lanyard
Manuel d'utilisation (EN)
Voir plus
Customer reviews
4.5/5
(2 notifications)
Par

E. Pierre

le 08/09/2022
Très simple à prendre à main et très convivial à piloter.
Par

G. Konstantinos

le 06/09/2022
best goggles ever! Cinewoop very nice tuned, excellent flight experience, 4 and not 5 star because of the CE signal in EU, really sucks!