Manufacturer : BETAFPV / Référence : 00313632
BT2.0-PH2.0 Adapter Cable
Shipping costs
from 49€ pour France
Same day shipping
for orders placed before 3:30pm (Monday to Friday)
Caractéristiques techniques
Set of 6 x BT2.0-PH2.0 Adapter Cable.
To provide our customers with greatest convenience, BETAFPV specially made this adapter cable which is a perfect solution when you want to charge the BT2.0 300 mAh 1S battery with the PH 2.0 charger.  
BULLET POINTS 
BT2.0 connector decreased internal resistance of connector effectively by upgrading the crimped pins to 1.0mm banana connector and increasing the cross-sectional area of 1.0mm banana connector.

BT2.0 connector supports 9A continuous current and 10A burst, while the PH2.0 connector supports 4.5A continuous current. Brings more perfect flight experience when you fly the 1S brushless whoop drone.

By using the BT2.0 connector, it can solve the problem of voltage sag, the discharge of the 1S lipo battery becomes more efficient. Pilots can enjoy more flight time without disturbance of low voltage warning. 

Compared with the PH2.0 crimped pins, BT2.0 1.0mm banana connector is more durable which can discharge more currents in the same capacity and provide far more power. You can get 2mins flight time in full throttle if you use our BT2.0 300mah 1S battery on Meteor65.

Conversion from PH2.0 connector to BT2.0 connector can be achieved with just one Adapter Cable, which convenient for charge the BT 2.0 battery with the PH 2.0 charger. 
SPECIFICATIONS
Item: BT2.0-PH2.0 Adapter Cable 

Length: 55mm (Not included the plug)

Weight: 1.07g(1 pcs)

Wire Type: 22AWG

Input Port: PH2.0 male connector(connect PH2.0 charger)

Output Port: BT2.0 female connector(connect BT2.0 battery)

Note: Blue represents the positive pole (+); White represents the negative pole(-)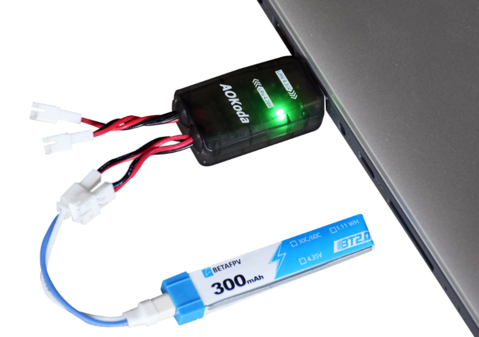 PACKAGE
6 * BT2.0-PH2.0 Adapter Cable
Voir plus
Customer reviews
4.9/5
(11 notifications)
Par

D. Tiburce

le 22/05/2023
Change le Bt2.0 en Ph2.0, et en bidouillant un peu, ca peut changer le Ph2.0 en Bt2.0 aussi !
Par

F. Clement

le 25/04/2023
Très pratique pour ne pas changer le pigtail de mon Mobula.
Par

P. Philippe

le 27/09/2022
Pour pouvoir me servir de mes lipo
Par

S. VAIOS

le 30/03/2022
GOOD QUALITY
Par

D. Sven

le 21/12/2021
.....
Par

A. Anonymous

le 17/08/2021
Aucun soucis
Par

A. Anonymous

le 28/02/2021
Impec
Par

A. Anonymous

le 06/01/2021
Très utile pour mon utilisation
Par

A. Anonymous

le 27/03/2020
Bonne autonomie
Par

A. Anonymous

le 01/01/2020
Je vais pouvoir convertir un chargeur
Par

A. Anonymous

le 01/01/2020
Comme sur le site, tout ok.