Manufacturer : T-Motor / Référence : TMOTOR-T4943
T-Motor BlackBird T4943 (2CW+2CCW)
Shipping costs
from 49€ pour France
Same day shipping
for orders placed before 3:30pm (Monday to Friday)
Caractéristiques techniques
Get more with T-Motor's T4943 Propellers! These durable props are stiffer and have greater thrust.

Spoecifications
Diameter: 4.9"
Pitch: 4.3"
Matérial: PC
Blades: 3
Weight: 3.59g
Shaft: M5
POPO : yes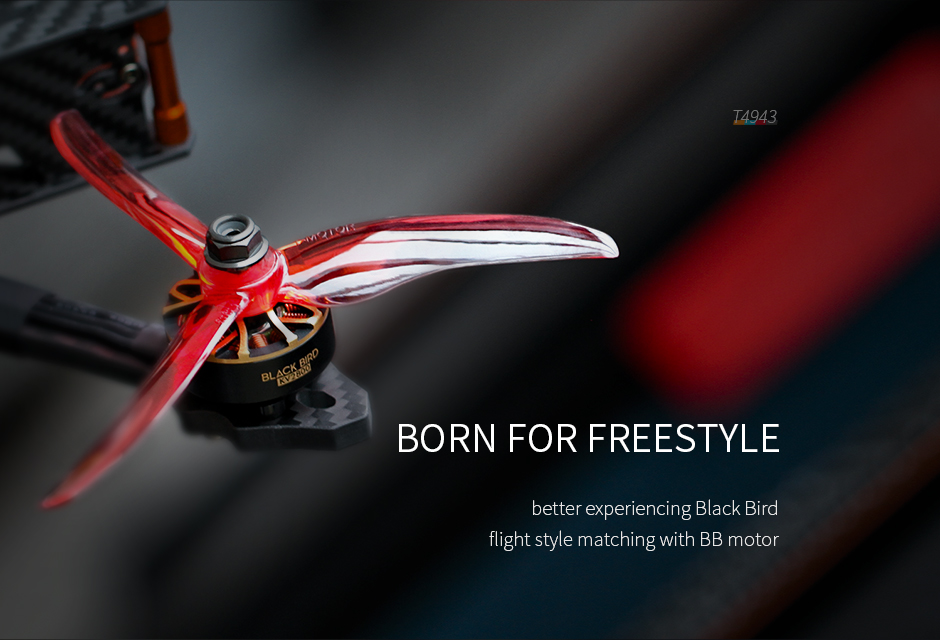 Voir plus
Customer reviews
4.9/5
(9 notifications)
Par

D. Aymeric

le 23/04/2021
Un peu fragile...
Par

G. Mathis

le 02/04/2021
Ca vole bien et les palles sont souple, ca permet une bonne resistance.
Par

A. Emmanuel

le 13/02/2021
Tres bien
Par

P. Fabien

le 18/11/2020
consomme moins que je me l'imaginais et très réactives tue le peut de propwash qui restait sur mon quad avec les ethix P3 les helices les plus reactives du moment
Par

C. Julien

le 06/11/2020
Smooth et power sincèrement mieux que mes anciennes props
Par

C. John

le 02/11/2020
c'est très violent, j'adore
Par

C. John

le 30/10/2020
J'adore pour le freestyle et la qualité est juste incroyable
Par

R. Baptiste

le 28/10/2020
Excellent feeling
Par

D. Aurelien

le 23/10/2020
Alors là, C'est mes préférées de loin avec les Azure power 4838. c'est je pense le mieux pour un châssis 5" ou les hélices sont prés l'une des autres, avec des hélices plus petites déjà ça passe (car des fois des 5" ne le sont pas vraiment, et moi c juste de chez juste!) et niveau perfs, elles sont géniales. et durables.