Manufacturer : TORVOL / Référence : TORVOL-QPBP
Quad Pitstop BackPack Pro
Shipping costs
from 49€ pour France
Same day shipping
for orders placed before 3:30pm (Monday to Friday)
Caractéristiques techniques
The most beloved team member of any professional pilot.
The Torvol Quad PITSTOP Backpack PRO easily carries 4 quads and all your FPV gear, such as goggles, transmitter, LiPo's, tools and more to any race. It features Torvol's PITSTOP area, a portable workspace to adjust and modify your quads quick and effortless.
Torvol's CLEANSEAT prevents you from dirty knees while doing so. The backpack includes multiple organizer pockets provide ample space for smaller FPV gear and personal belongings, while larger items like a tripod and a foldable chair can be strapped to the outside. The dedicated laptop pocket on the back holds a 15-inch laptop and a charger. An expandable rain cover, thick back padding and a hip and sternum strap ensure comfort and convenience while traveling to your race.
WHAT YOU CAN BRING: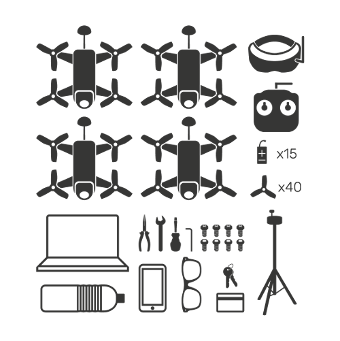 FEATURES
Torvol PITSTOP
Torvol CLEANSEAT
Torvol MAGNETCASE
Quad Attachment straps for 2 quads
Custom Pilot Tag
Modular divider set with mesh pockets
Specifications
Dimensions : 33*27*52cm
Internal dimensions : 24*22*50cm
Capacity : 30L
Composition
Expandable rain cover to protect 2 externally attached drones from the rain.
Puncture proof pockets for tools.
Laptop pocket holds 15-inch models (and some 17 inch models).
Top pocket for small personal items.
Quick release side straps for tripod & folding chair
2 side pockets with puncture proof organizer pockets for flat items.
Stretchy mesh pockets on the sides.
Comfortable hip and sternum straps.
Comfortable back padding.
Protective soft cotton lining.
Durable buckles
Strong zippers and zipper pullers
Voir plus
Customer reviews
4.6/5
(20 notifications)
Par

N. Ermes

le 06/05/2022
best fpv backpack
Par

D. Gianluca

le 23/04/2022
Best FPV backpack
Par

D. Alex

le 19/04/2022
not the quality I expected for the price
Par

V. Lucas

le 12/03/2022
Top !
Par

H. Alexia

le 04/12/2021
Parfait
Par

R. Didier

le 06/08/2021
Super sac idéal fpv
Par

P. Camelia

le 30/05/2021
Je suiș tres satisfaite de ce profit! Je l'ai anchete pour mon Mari!
Par

D. David

le 30/05/2021
super contents de mon achat..très bonne qualités ... semble petit a la réception ,mais bien penser... tout rentre dedans . vaut le prix...
Par

L. Rémy

le 11/05/2021
Sac au top du top, je l'ai pas encore testé en randonnée mais on peut tout mettre dedans c'est incroyable.
Par

T. Clément

le 26/04/2021
parfait
Par

B. David

le 12/04/2021
Parfait
Par

R. Martin

le 09/03/2021
La folie ! De la place partout, hyper modulable à l'intérieur, de la place partout... Seul regret, j'aurai bien aimé y retrouver les petites poches triangulaires qu'il y'a sur le freestyle mais bon !
Par

A. Anonymous

le 15/10/2020
" lo zaino per droni per eccellenza "
Par

A. Anonymous

le 14/11/2019
Très satisfait
Par

A. Anonymous

le 19/09/2019
excellent et fait bien son boulot, un peu lourd et encombrant, mais difficile de faire autrement vue tout ce qu'il propose
Par

D. Jean-Gualbert

le 19/02/2019
Cher, mais très bon sac
Par

L. PANY

le 14/12/2018
Cadeau pour mon mari qui désirait ce sac pour son drone. N'étant pas une experte en la matière, je ne peux qu'evaluer positivement sur l'objet
Par

A. Anonymous

le 21/08/2018
amazing quality bag, fits everything I own!
Par

A. Anonymous

le 04/07/2018
Conforme à la description, très bonne qualité
Par

A. Anonymous

le 16/05/2018
un peu gros et lourd a vide