Manufacturer : TORVOL / Référence : TORVOL-QPB
Quad Pitstop BackPack
Shipping costs
from 49€ pour France
Same day shipping
for orders placed before 3:30pm (Monday to Friday)
Caractéristiques techniques
A must have for true FPV race fanatics.
The Torvol Quad Pitstop Backpack easily carries 2 quads and all your FPV gear, such as goggles, transmitter, LiPo's, tools and more to any race track.
The backpack has comfortable back padding and hip straps for convenient travel. At the race location, this backpack transforms into a convenient PITSTOP area; a portable work space to adjust and modify your quads quick and effortless. Torvol's CLEANSEAT prevents you from dirty knees while doing so.
This Quad Pitstop Backpack makes sure you can enjoy more time racing and less time preparing for it.
WHAT YOU CAN BRING: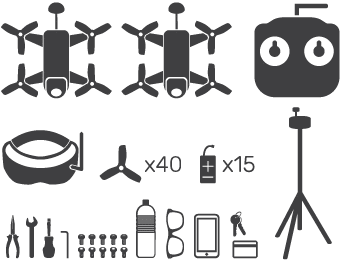 KEY FEATURES
• Torvol PITSTOP
• Torvol CLEANSEAT
• Torvol MAGNETCASE
• Quick release straps on each side
• Modular divider set
ADDITIONAL FEATURES
• Top pocket for small personal items
• Stretchy mesh pockets on the sides
• Comfortable hip and sternum straps
• Comfortable back padding
• Protective soft cotton lining
• Rain cover included
• Durable buckles
• Strong zippers and zipper pullers
| | |
| --- | --- |
| Weight | 2.0 kg |
| Dimensions | 31 x 23 x 47 cm |
| Internal dimensions | 24 x 19 x 45 cm |
| Capacity | 25 L |
| Color | Black/Torvol Racing Green |
Voir plus
Customer reviews
4.9/5
(28 notifications)
Par

S. VAIOS

le 23/12/2021
good quality
Par

M. Alix

le 14/12/2021
très grand permet de mettre tout le matos drone, mais pas assez pour mettre en + matos photo/vidéo ; )
Par

M. Vincenzo

le 11/12/2021
Zaino stupendp
Par

E. Electro-Center Vincent

le 25/11/2021
convient pour mon DJIFPV
Par

N. Daniel

le 18/11/2021
La mochila es una pasada! Buenisima calidad! Muchas gracias!
Par

G. Chloe

le 16/03/2021
Beaucoup plus petit que ce que je pensais et que le pro Top qualité
Par

K. Sébastien

le 13/02/2021
très bon sac, bien pensé et hyper pratique
Par

J. Oliveira

le 28/09/2020
great for the drone i have.
Par

F. Mathieu

le 24/09/2020
Ras, très bon produit
Par

G. Gael

le 04/09/2020
Belle finition je recommande
Par

M. Yacine

le 19/08/2020
Très belle finition, seul bémol le manque de place pour un ordinateur.
Par

A. Anonymous

le 30/06/2020
Super sac, je ne regrette pas !
Par

A. Anonymous

le 27/06/2020
Super produit ! J'adore
Par

A. Anonymous

le 22/12/2019
Parfait. Fonctionnel et compact !
Par

A. Anonymous

le 10/12/2019
LE TOP. Remplace un iflight que je trouvais bien, mais c'est incomparable. Les finitions sont excellentes, hyper bien pensé. La repartition du poids est optimum, meme plein on ne le sent pas sur ls épaules. MUST HAVE (dans sa catégorie)
Par

A. Anonymous

le 03/12/2019
Super
Par

B. Pierre

le 29/04/2019
On sent les améliorations par rapport au précédent: Tirettes renforcées
Par

C. Tudor

le 10/04/2019
nice
Par

A. Anonymous

le 29/11/2018
Prodotto di alto livello e finitura
Par

A. Anonymous

le 09/09/2018
Enfin le sac qui me permette de partir en vadrouille sans rien oublier et rangement au top.
Par

A. Anonymous

le 10/07/2018
high quakity
Par

A. Anonymous

le 20/05/2018
nickel
Par

A. Anonymous

le 27/03/2018
Super sac a dos, de qualité, fonctionnel et jolie.
Par

A. Anonymous

le 18/03/2018
le top pour partir sur des spots inaccessible en voiture, hyper pratique, réarrangement des cellules facile.
Par

A. Anonymous

le 13/03/2018
J'ai su mettre mes deux racers 5" la radiocommande Le DJI Mavic pro avec ses trois batteries et la radiocommande Des batteries tout ceux-ci à l'intérieur du sac
Par

A. Anonymous

le 25/02/2018
Très confortable une fois mis sur le dos. Bcp de petites places de rangement 2 quad avec hélice démonter, un emplacement de prévu pour la radiocommande, vous transporterez tous donc vous aurez besoin, une housse de protection en cas de pluies est prévu avec le sac.très robuste !! je recommande.
Par

A. Anonymous

le 25/02/2018
Un peu déçu à la réception du volume mais après un peu de réflexion et de déplacement des cloisons je peux ranger : 2 x 145 hglrc , un metalldanny 275 ( en enlevant les hélices ) , ma taranis , les lunettes , les hélices de rechange, les outils et le sac lipo contenant 3 x 1800 4s , 2 x 1500 4 s , 1 x 2400 4 s et 8 x 3S 850 , et les outils . Super pour tout trimballer discrètement et voler en un clin d'oeil . La poche aimantée est vraiment bien pensée pour les petites interventions sur le terrain . Plus je l'utilise plus je l'apprécie !
Par

A. Anonymous

le 25/02/2018
Excellent sac, parfait pour partir en session.