Orqa FPV.One Battery
The ORQA FPV.Battery was designed to power your ORQA FPV.One OLED FPV Goggles.
Learn more
By buying this product you can collect up to 1 loyalty point. Your cart will total 1 loyalty point that can be converted into a voucher of 0,20 €.
Same Day Shipping Warning: Last items in stock!
Availability date:
Degressive Shipping Costs

Same day shipping for orders placed before 3:30 pm (Monday to Friday)
More info
The ORQA FPV.Battery was designed to power your ORQA FPV.One OLED FPV Goggles. Housing two 18650 Li-ions, this rechargeable battery pack uses a standard barrel plug to power many common FPV goggles. The top of the unit has four LEDs that display the voltage level, so you always know how long you have left till you need to charge.
Specifications
Power supply: 6-10VDC (2S Li-ion Battery)
Battery connector: 2.1 x 5.5mm barrel connector
Weight: 114g
Capacity: 2000Mah
Charging the Battery
The Orqa Battery should be recharged once the battery voltage is low.
To charge the battery you will need the battery charger with the Li-ion or Li-Po charging profile. The best way to recharge the battery is the "balance charge" option. That means that the charger will make sure that the cells inside the battery will always be charged to the same voltage. Having the cells balanced will ensure the long-time optimum battery performance.
Note: The 18650 Li-ion batteries inside the pack are not removable. Please recharge them through the included balance connector.
The optimal charging current should be set to 1.0A max. The battery should be fully charged to 8.4V (4.2V per cell). The fully charged battery will have all four bars lit.
The correct battery connectors polarity is shown in the images below.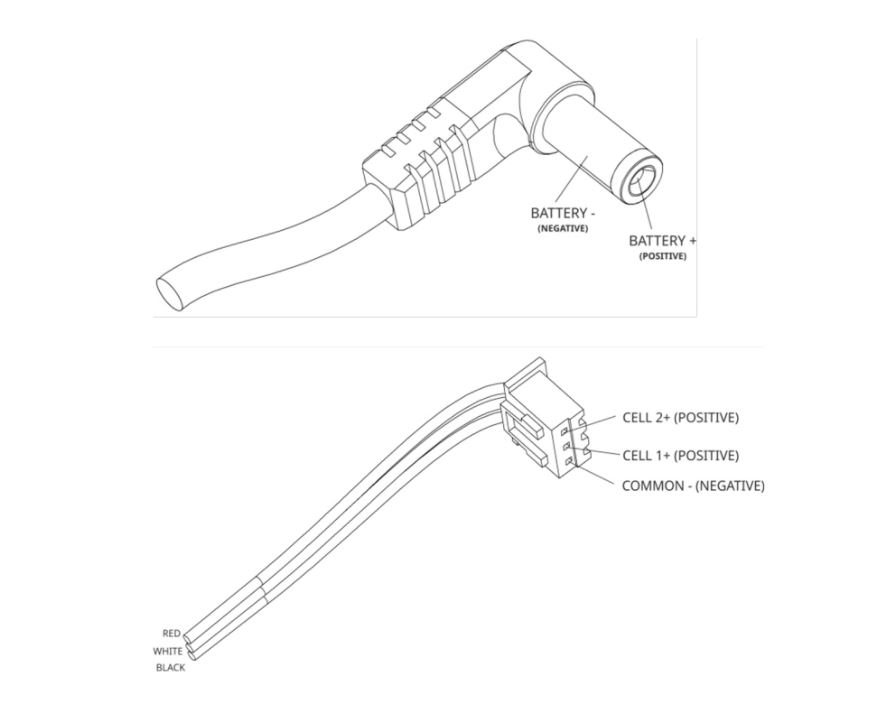 Li-Po (Lithium Polymer) batteries and more generally all batteries, must be used with care, particularly when charging and discharging and when they are generally used on a scale model.
Battery chargers must imperatively remain under the supervision of the user during their use in order to be able to react quickly in the event of an incident. They must be placed in an open area, without risk of fire. Use of a safety bag for battery charging and storage is imperative.
Never charge a battery showing signs of shocks, one or more swollen cells, a damaged cable..
NEVER CHARGE A BATTERY WITHOUT SUPERVISION, AT NIGHT OR IN YOUR ABSENCE