Manufacturer : Matek / Référence : MATEK-F722-STD
Matek Flight Controller F722-STD
Shipping costs
from 49€ pour France
Same day shipping
for orders placed before 3:30pm (Monday to Friday)
Caractéristiques techniques
Matek Flight Controller F722-STD
Upon receiving your FC,please connect to USB and calibrate before continuing to build and solder to it.
MCU: 216MHz STM32F722RET6
IMU: 32K ICM20602 gyro/accelerometer (SPI)
Baro: BMP280 (I2C)
OSD: BetaFlight OSD w/ AT7456E chip
Blackbox: MicroSD card slot (SD/SDHC)
VCP, UART1, UART2, UART3, UART4, UART5
PPM/UART Shared: UART2-RX
Battery Voltage Sensor: 1:10
Current Sensor: No (FCHUB-6S, FCHUB-VTX option)
BEC 5V: No (FCHUB-6S, FCHUB-VTX option)
LDO 3.3V: Max.300mA
I2C1 SDA & SCL: Yes
Camera control: Yes
DAC: Yes
WS2812 Led Strip : Yes
Beeper : Yes
RSSI: Yes
3x LEDs for FC STATUS (Blue, Red) and 3.3V indicator(Red)
7x PWM / DShot outputs without conflict
5x UARTs
1x Group of G/S1/S2/S3/S4 pads for 4in1 ESC Signal/GND
1x I2C1
4x pairs of corner pads for ESC Signal/GND connections (DSHOT compatible)
1x Side-press button for BOOT(DFU) mode
1x 16pin bottom mounted FFC Slot for FCHUB-6S or FCHUB-VTX connection
36x36mm PCB with 30.5mm mounting holes
w/ 2x 0.5mm*16Pin 5cm Flexible Flat Cable
w/ 4pcs M3 Anti-vibration Standoffs
Drivers & Softwares
BetaFlight
BetaFlight Firmware
INavFlight
INAV Firmware
CLI "set telemetry_inversion = ON"  for Frsky SmartPort working on TX pin directly.
If FC can't be connected to INAV configurator after flashing, unstall COM port driver, then install folowing driver for WIN10X64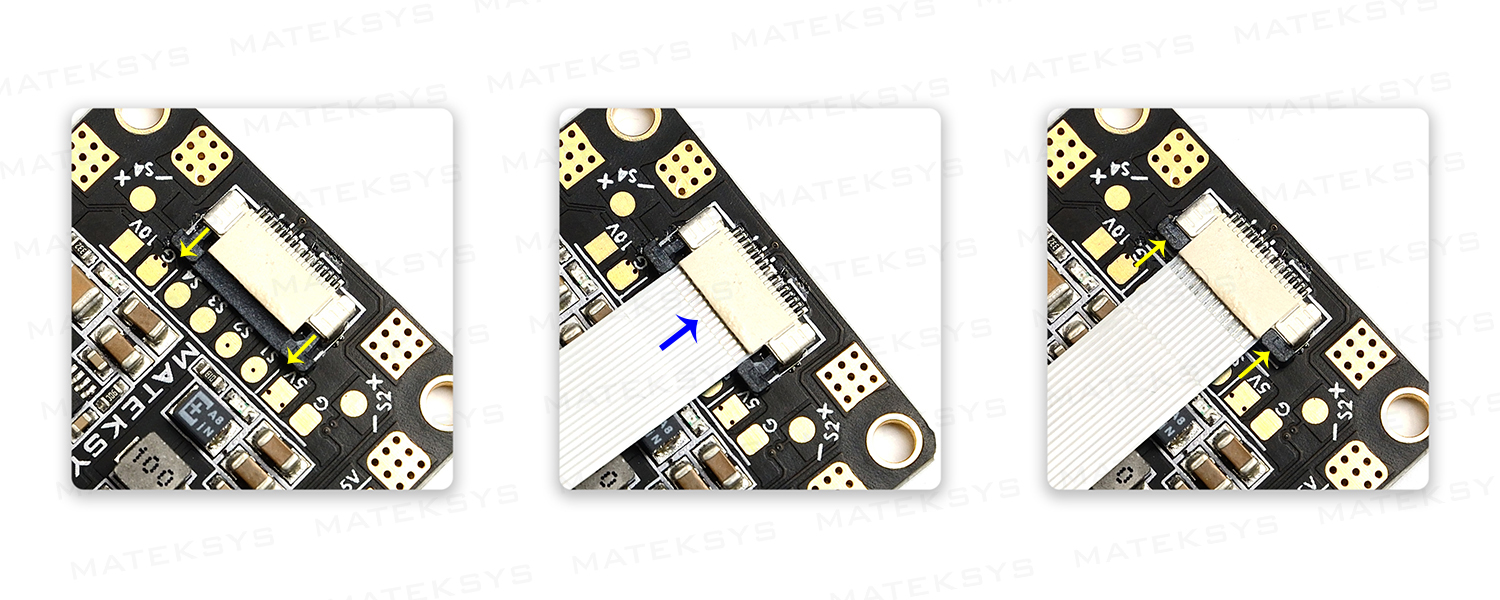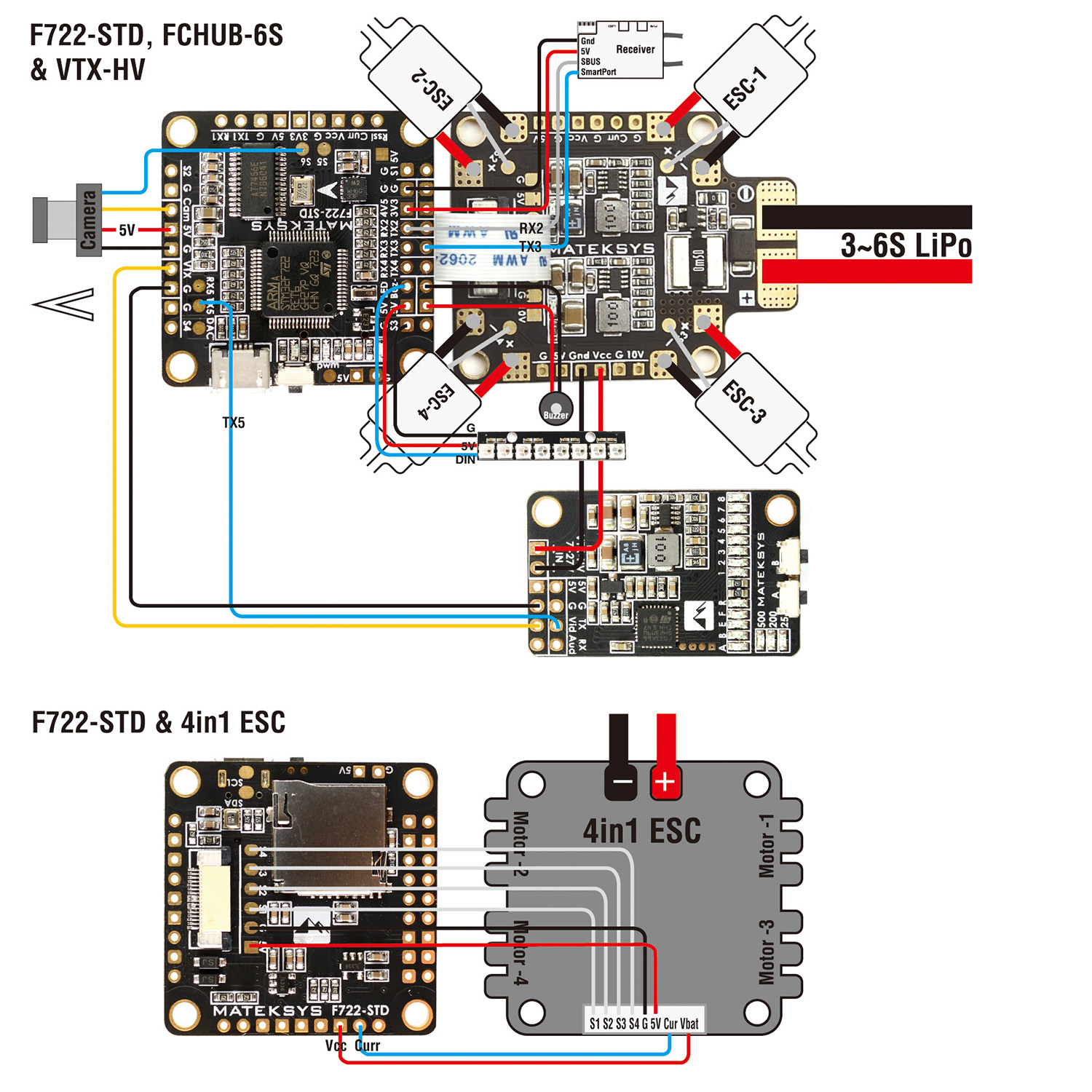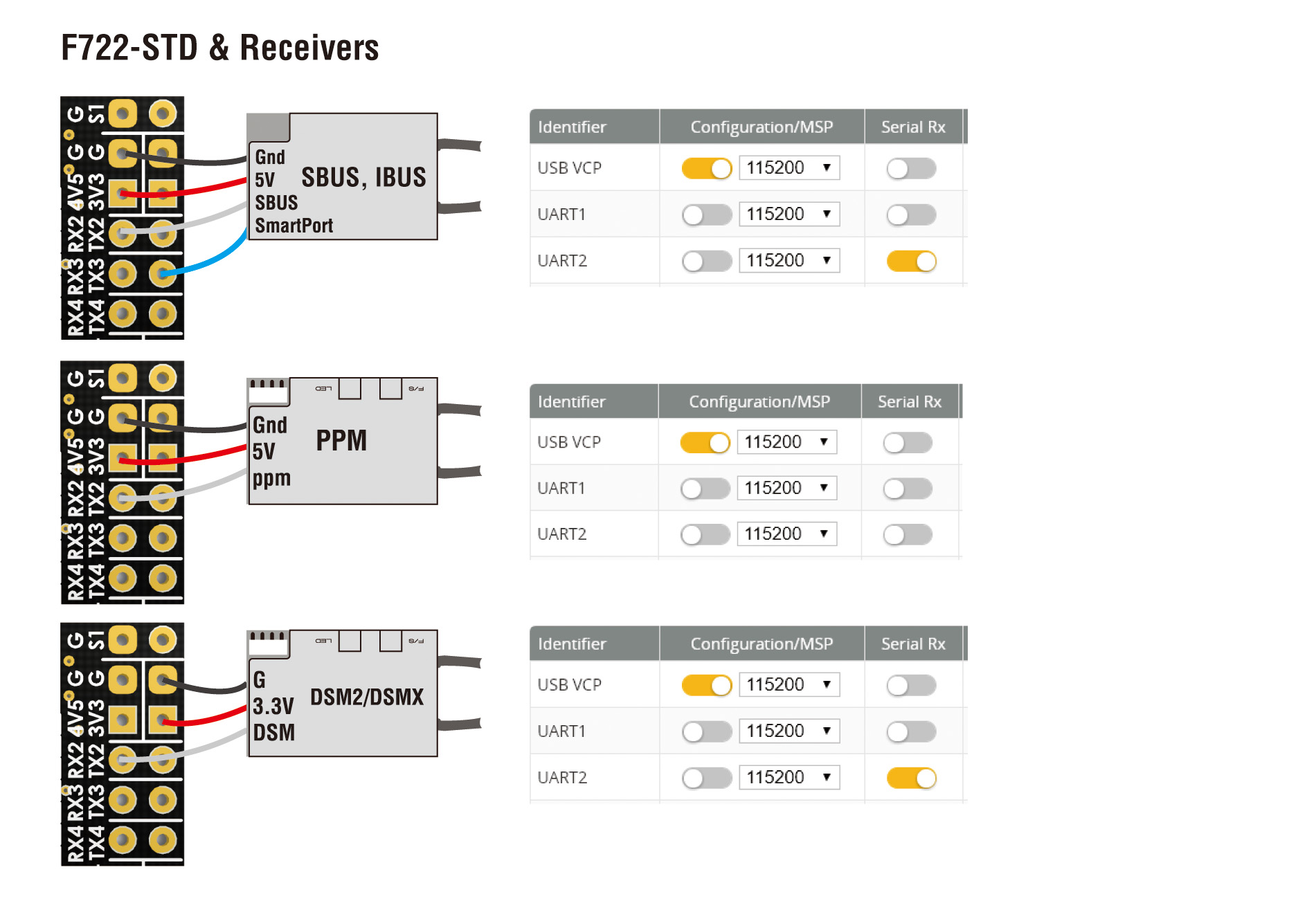 Voir plus
Customer reviews
4.8/5
(9 notifications)
Par

O. Eric

le 04/09/2020
nickel
Par

C. Stéphane

le 28/05/2020
En remplacement de mon précédent FC. Bien supporté par Betaflight et iNav.
Par

A. Anonymous

le 14/11/2019
Bonne carte
Par

A. Anonymous

le 10/10/2018
Super finition ....
Par

A. Anonymous

le 07/06/2018
Produit de qualité et envoi rapide
Par

A. Anonymous

le 09/05/2018
Doit encore être testé en vol. En combo avec FCHUB-VTX de Mateksys, ça fait un ensemble simple à mettre en oeuvre.
Par

A. Anonymous

le 14/03/2018
Bien
Par

A. Anonymous

le 13/03/2018
Conforme à mes attentes
Par

A. Anonymous

le 16/02/2018
Super produit et très bien fini