Manufacturer : DroneFPVRacer / Référence : SUP-SESSION-STRAP-ND
GoPro Session Mount to Strap with TBS ND filter support - TPU by DFR
Shipping costs
from 49€ pour France
Same day shipping
for orders placed before 3:30pm (Monday to Friday)
Caractéristiques techniques
3D printed mount made of flexible TPU to protect and fix a GoPro Session on most of frames.
Notch designed to insert a TBS ND Glass filter, enjoy HD video without jello and with a cinematic effect.
All functions of the camera remain accessible once mounted in the holder.
The camera slides through the side of the bracket.
Caracteristics
easy to install
Flexible TPU to optimize durability and protection.
Weight : 18 gr only.
Voir plus
Customer reviews
4.4/5
(12 notifications)
Par

D. Jonathan

le 02/05/2022
Léger manque de fusion entre couche mais très bien ajusté à la caméra et aux filtre
Par

A. Anonymous

le 07/08/2021
Fait le job. Parfait pour une Runcam5 Orange.
Par

A. Anonymous

le 11/05/2021
Un peu cher (vivement que j'investisse dans une imprimante 3D) mais bien conçu. Installation de la Runcam 5 et du filtre ND facile et sécurisante
Par

A. Anonymous

le 26/01/2021
Compatible pour Runcam
Par

A. Anonymous

le 13/06/2020
Super mais un peu cher je trouve
Par

A. Anonymous

le 13/06/2020
Tres bonne qualité d'impression. Solide, Gopro bien protégée. En plus accès a tous les boutons.
Par

A. Anonymous

le 14/11/2019
Fait le taff, parfait pour protéger la gopro et pour installer le filtre ND. Impression 3D de bonne qualité.
Par

Z. Alberto.

le 27/09/2019
Bien
Par

A. Anonymous

le 28/08/2019
Impression TPU de qualité ! Ajustement nickel filtre ND TBS ! Runcam 5 rentre parfaitement ! Un peut chère mais je recommande !
Par

L. Barbecot

le 04/08/2019
Tbs ... quoi de plus fiable
Par

L. Joaquim

le 31/03/2019
Belle finition
Par

G. Rudy

le 14/12/2018
Bonne impression, le filtre ND de TBS s'insèrent parfaitement. A voir comment ça dure dans le temps après quelques crashs ^^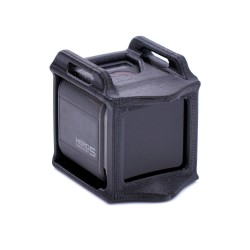 GoPro Session Mount to Strap with TBS ND filter support - TPU by DFR