Manufacturer : FrSky / Référence : FRSKY-TARANIS-X9LITE
FrSky Taranis X9 Lite Radio
Shipping costs
from 49€ pour France
Same day shipping
for orders placed before 3:30pm (Monday to Friday)
Caractéristiques techniques
As a portable radio, the FrSky Taranis X9 Lite is a remarkable fusion of traditional radio design with the innovations of the latest ACCESS protocol.
The X9 Lite inherits its classic form factor from the FrSky Taranis X9D series remote control, along with completely preserving the comfort of the classic grip design, it also adds a program scroll button adding convenience when navigating the menu further improving the user experience. For beginners, the wired training function is retained, allowing beginners to improve their skills with the security of an instructors input upon command.
Like the Taranis X-Lite Pro, the new Taranis X9 Lite also uses the latest ACCESS communication protocol, along with ErskyTX / OpenTX open source operating system, it boasts 24 channels with a faster baud rate and lower latency with a high-speed module digital interface. Additional ACCESS features like wireless firmware updates and wireless configurations will be gradually unlocked, providing a more reliable, more secure link between the remote and model. Making the X9 Lite a fully functioning remote control with tons of extra features.
Pls .be noted:

The X, XM, RX, GX series receivers can be gradually upgarded to ACCESS protocol. The 1st batch of updates includes XM, RXSR, RX4R, RX6R, G-RX6, G-RX8 and R9 series. The 2nd batch will include XM Plus, RX8R Pro and etc. For more details about ACCESS, pls. visit: https://www.frsky-rc.com/frsky-advanced-communication-control-elevated-spread-spectrum-access-protocol-release/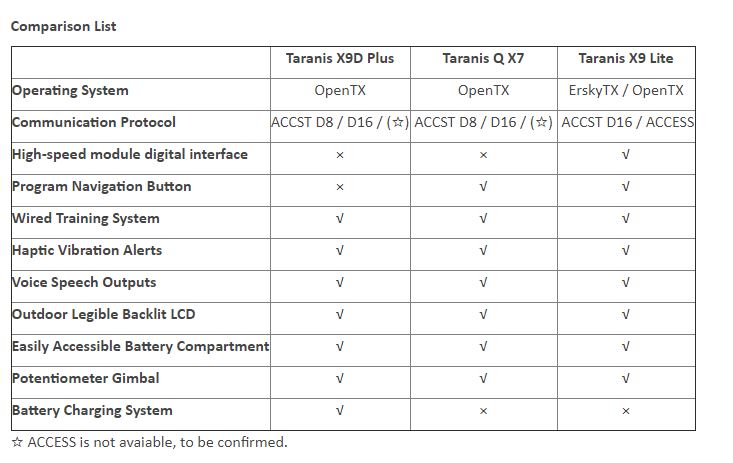 Voir plus
Customer reviews
4.4/5
(20 notifications)
Par

T. Julien

le 31/03/2022
Superbe
Par

A. Anonymous

le 08/07/2021
Seul point négatif que j'aurais dû mieux vérifier, l'impossibilité de charger directement la rc via son port usb...
Par

A. Anonymous

le 26/01/2021
Très bien
Par

A. Anonymous

le 23/01/2021
Possibilités importantes.
Par

A. Anonymous

le 04/09/2020
Pourquoi 5 étoiles et pas 4 ? Le rapport qualité prix : la télécommande tiens bien en main, et ne coûte "que" 100€, mais elle fait tout ce qu'on lui demande, sans pomper trop de batterie, ni sur simulateur, ni avec un module externe (r9 dans mon cas). Mille et un switches n'ont que trop peu d'intérêt, et on a déjà trop de Switch pour un drone de base. En somme : très bien, profitez-en pour commencer cette discipline déjà onéreuse en réduisant les coûts, et vous upgraderez en achetant de nouvelles Lipo dans un an. Celle-ci n'ira pas au placard, elle pourra être prêtée à un ami que vous aurez traquenardé dans la discipline, ou en simu ;-)
Par

A. Anonymous

le 31/07/2020
Super petite radio ergonomique, j'en découvre petit à petit les fonctionnalités.
Par

A. Anonymous

le 30/06/2020
Parfait pour se que je fait avec petit soucis de reconnaissance par mon ordinateur mais le problème est résolu
Par

A. Anonymous

le 30/06/2020
La base pour une vraie radio commande
Par

A. Anonymous

le 25/06/2020
Les même fonction que la Tanaris X7 avec un peu moins de voies et un mini port d'extension de module. Convient parfaitement pour débuter, se connecte au PC par micro usb comme manette (utile pour l'utilisation de simulateur)
Par

A. Anonymous

le 13/06/2020
Très bonne radio entrée de gamme taranis
Par

A. Anonymous

le 13/06/2020
Conforme à mes attentes
Par

A. Anonymous

le 07/05/2020
Je suis déçu je pansé que la radio été en fcc et non pourtant sur certaines radio il et dit (eu) je me suis dit vu qui et pas indiqué je me suis dit elle et en fcc voilà du coup je suis déçu
Par

A. Anonymous

le 24/04/2020
Connecteur de la baie externe cassé, certainement lors du montage du capot arrière de la radio.
Par

A. Anonymous

le 22/04/2020
Tres bonne radio !
Par

A. Anonymous

le 19/02/2020
Parfait
Par

A. Anonymous

le 06/02/2020
Très bonne radiocommande utilisé avec r-xsr et drone 250 marche parfaitement
Par

A. Anonymous

le 06/02/2020
Livré rapidement et bien protégé, fonctionne très bien
Par

A. Anonymous

le 21/11/2019
Bon produit pour débuter sans se ruiner avec une X9D plus
Par

A. Anonymous

le 14/11/2019
Bonne petite radio seul bémol la carte micro sd ne tiens pas dans son slot elle est en mode eu et pas fcc ce qui pose des soucis de bind avec les betafpv frsky même avec le module xjt pareil
Par

A. Anonymous

le 17/09/2019
A ce prix, difficile de faire mieux. Très complète, assez de switch. La zone pour les accus est un peu naze et les trous pour la sangle un peu petits. La roulette est parfaite pour parcourir les menus et modifier la valeur des paramètres de manière très rapide ou très précise (accélération)