Manufacturer : DJI / Référence : DJI-FPV-COMBO
Drone DJI FPV Combo
Shipping costs
from 49€ pour France
Same day shipping
for orders placed before 3:30pm (Monday to Friday)
Caractéristiques techniques
Rip through the clouds 
with speed, power, and complete control.
Go into the beyond…and redefine flying. 
Fly through the sky in ways that seem impossible. We never lost our passion for flying, and with DJI FPV, those passions have turned imagination into reality. With this immersive and intuitive aerial platform, get ready to go into the beyond.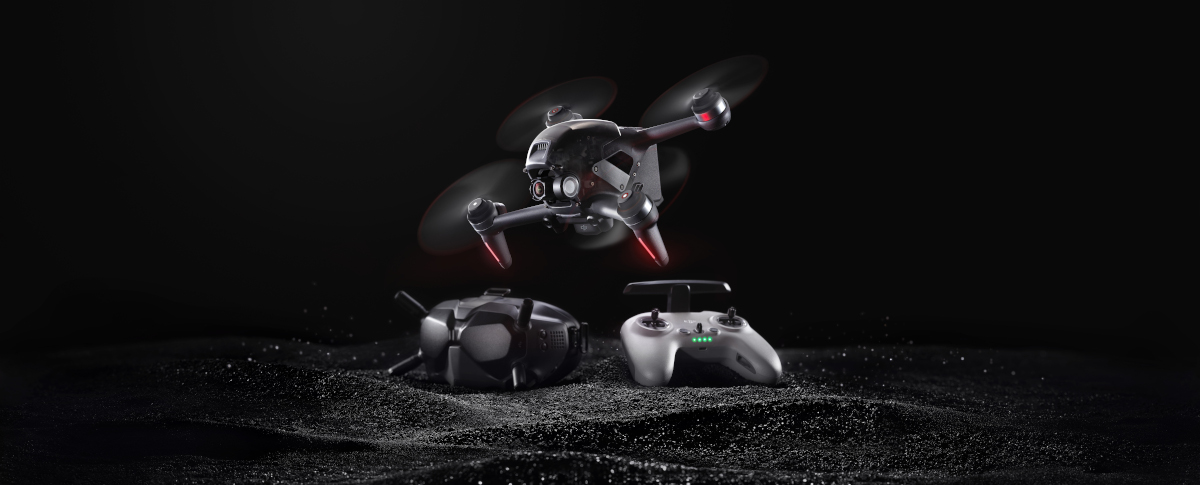 Whether you're a seasoned FPV pilot or a complete beginner, DJI FPV offers three intuitive flight modes that let anyone fly confidently from day one. 
S Mode
Get the dynamic look of FPV footage easily in S mode. This hybrid flight mode combines the freedom of flying manually with the simplified controls of previous DJI drones.
N Mode
Ideal for new users, N mode offers immersive flight with traditional drone flight controls along with DJI safety features like obstacle sensing. [3] 
M Mode
Fly in M mode for complete, limitless control and the full FPV flight experience. Customize parameters and enjoy flight and footage unlike anything else. [4] 
Video Transmission
Clear & Smooth: 810p/120fps | High Bitrate of 50 Mbps
Low Latency: Camera to Goggles within 28 ms
Anti-Interference: Four Antennas | 2.4/5.8 GHz Auto Switching | 6km Transmission Range
Flight
Performance: 140kph Max Speed [2] | 20-Min Max Flight Time
Easy to Fly: 3 Flight Modes | DJI Virtual Flight Simulator | DJI Motion Controller
Safety: Emergency Brake and Hover | Forward & Downward Obstacle Sensing | Failsafe Return to Home
Camera
Stabilization: RockSteady EIS
Specifications: 12 MP | 150° FOV
Video: 4K/60fps | 4x Slow Motion in 1080p | H.264 & H.265
Included
1x

DJI FPV Drone
1x

DJI FPV Intelligent Flight Battery
4x

DJI FPV Propellers (Pair)
1x

DJI FPV Gimbal Protector
1x

DJI FPV Top Shell 
1x

DJI FPV Remote Controller 2
1x

Spare Control Sticks (Pair)
1x

DJI FPV Goggles V2
4x

DJI FPV Goggles Antenna (Dual Band)
1x

DJI FPV Goggles Battery
1x

DJI FPV Goggles Power Cable (USB-C)
1x

DJI FPV Goggles Headband
1x

DJI FPV Goggles Foam Padding
1x

DJI FPV AC Power Adapter
1x

DJI FPV AC Power Cable
1x

USB-C Data Cable
1x

USB-C OTG Cable
Voir plus
Customer reviews
4.6/5
(7 notifications)
Par

V. Daniel

le 03/07/2021
Matériel conforme à mes attentes et haut de gamme
Par

B. Stéphane

le 27/04/2021
juste ce problème de connexion aux satélites
Par

O. Lepercq

le 02/04/2021
Super ensemble, pour débuter ou faire des images c est top.
Par

B. Yoanne

le 25/03/2021
Très bon matériel. Du DJI... Absolument pas destiné à la même utilisation que les drones racer ni les drones de loisirs. La formule propose tout autre chose. Un autre aspect du vol immersif.
Par

H. Kevin

le 25/03/2021
Bon drone pour débuter le fpv
Par

D. Romain

le 25/03/2021
Radin pour le prix ils pourraient ajouter une housse
Par

D. Bernard

le 16/03/2021
Produit encore jeune, mais bon support, je pense que beaucoup de MàJ seront encore nécessaires...