Manufacturer : Caddx / Référence : CADDX-EOS2
Caddx FPV Turbo EOS 2 Camera
Shipping costs
from 49€ pour France
Same day shipping
for orders placed before 3:30pm (Monday to Friday)
Caractéristiques techniques
A true micro FPV camera that comes with a 1/3" sensor, 1200TVL resolution, and global WDR! The EOS2 brings full-size camera quality to the micro world.
The EOS 2 by Caddx is a mini camera that provides some incredible specs for 1200TVL resolution and WDR worldwide. EOS2 is equipped with 1/3 CMOS sensor and 2.1mm lens with a 16:9 projection ratio. 
This camera is well suited to micro-structures that requires maximum weight and space Reduction without compromising quality.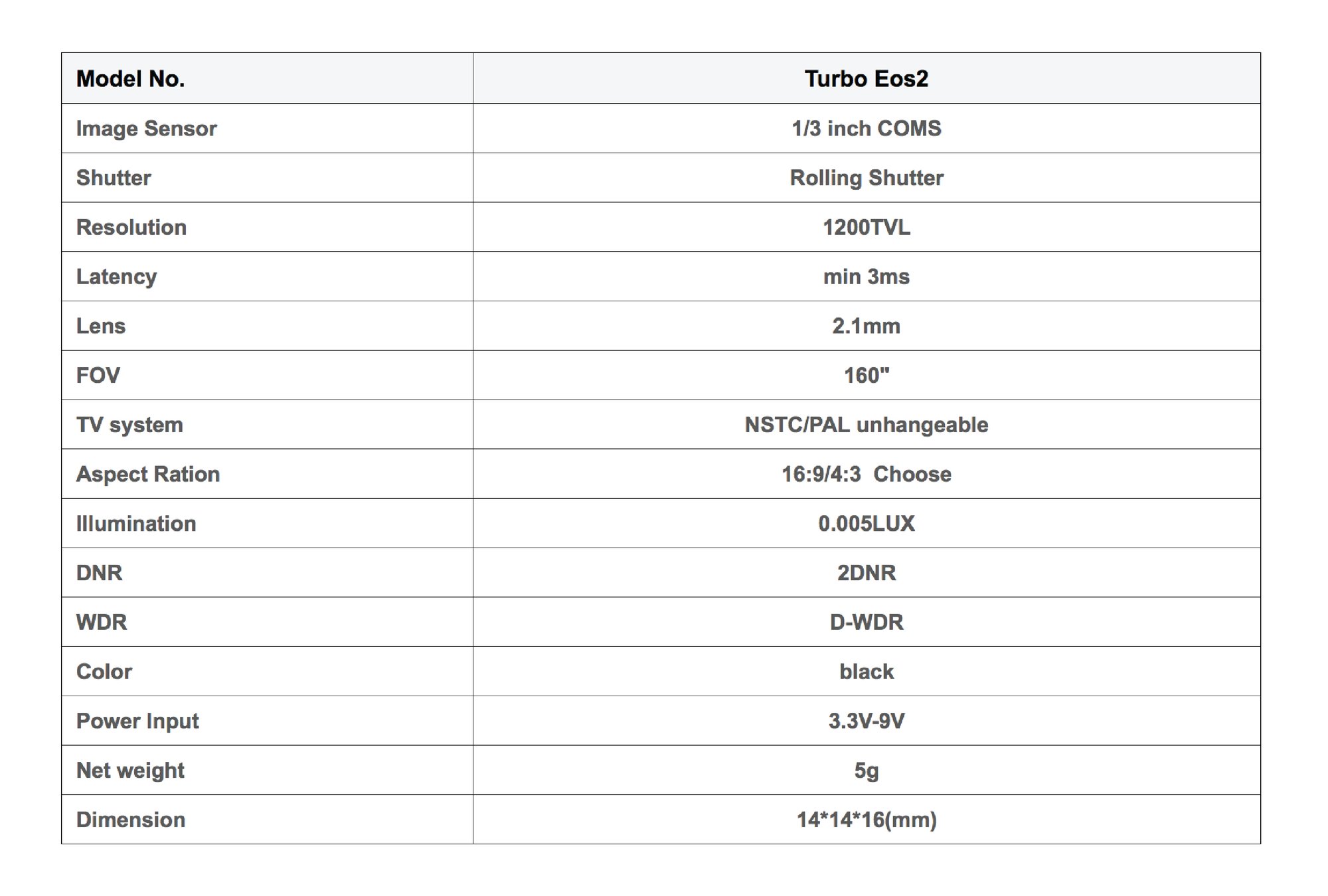 Package Included
1 camera
1 x Molex Picoblade 1.25mm 3pin FPV silicone cable
1 screw set
Voir plus
Customer reviews
4.6/5
(27 notifications)
Par

S. Serge

le 03/08/2021
Bonne petite cam belle image pour pas cher je recommande
Par

H. Theo

le 02/12/2020
Très bonne camera pour le prix ! Permet de voler même avec de très faible luminosité. Prévoir un support adapté pour des châssis 5 pouces.
Par

M. Roger

le 27/08/2020
très bon produit à petit prix.
Par

R. Quentin

le 31/07/2020
Pas encore installé
Par

A. Anonymous

le 22/03/2020
Caméra au top. Il manque juste un petit support avec. Belle image et belle vidéo
Par

A. Anonymous

le 07/03/2020
Très bonne cam rapport /prix
Par

A. Anonymous

le 02/03/2020
Conforme
Par

A. Anonymous

le 26/02/2020
Fait son job, je retire 2 étoiles pour la fragilitée.
Par

A. Anonymous

le 22/02/2020
Ça coûte 14€ !!! Y'a pas un rendu de gopro mais l'image est assez correct ...
Par

A. Anonymous

le 19/02/2020
Bon produit et tarif abordable
Par

A. Anonymous

le 12/01/2020
C'est ma troisième. Je l'ai pris en spare car elle n'est pas chère. La première s'est arrêté de fonctionner. Sur la deuxième, les couleurs se sont mis à délirer. L'herbe et les arbres sont devenus violet.
Par

A. Anonymous

le 08/11/2019
Vraiment top pour le prix très bonne image
Par

A. Anonymous

le 21/09/2019
Tres Bonne camera
Par

A. Anonymous

le 19/09/2019
pas la folie mais pas nul non plus ppur le prix fait le job ez !
Par

A. Anonymous

le 17/09/2019
Qualité correcte pour le prix. Je les monte sur tout mes tiny
Par

A. Anonymous

le 16/09/2019
Prise pour remplacer la Z02 d'un beta 75 pro 2, cette caméra est bien meilleure, et de très loin !
Par

H. Jean-Philippe

le 28/08/2019
Montées sur des 5" pour le prix, quelques artefacts de couleurs dans des scènes difficiles
Par

B. Ana

le 10/08/2019
Great image quality, good FOV and crash resistant.
Par

C. Yanis

le 18/07/2019
Très bonne caméra, superbe image.
Par

M. Scarante

le 09/07/2019
Buon rapporto prezzo/qualità
Par

C. Anthony

le 08/06/2019
Utilisé pour remplacer la camera du 75X sur mon SR NANO. C'est le jour et la nuit, peut importe l'ensoleillement, l'image est exploitable et de qualité correct. Rapport Q/P impeccable!
Par

L. Jules

le 03/06/2019
Bonne caméra !
Par

Y. Pascal

le 23/05/2019
très content
Par

A. Pablo

le 23/04/2019
Parfait, en comparaison avec une camera betaFPV classique, on passe de voir pas trop mal quand il fait beau, à voir bien tout le temps.
Par

S. David

le 22/03/2019
ca change vraiment en remplacement de l'origine su BetaFpv 75X reel changement .
Par

R. Fabrice

le 09/03/2019
Très bien
Par

D. Alexandre

le 20/02/2019
Fonctionne parfaitement : Seul bémol, l'objectif devrait pouvoir se vendre à part !